The stodgy stallwart at the center of Toyota's range – the eponymous Camry sedan – is getting a long-overdue reworking. This is a major model change, and the first in about five and a half years. The new Camry will be hitting the Japanese market in September, followed by its US sales launch in October.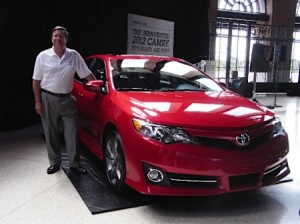 As with all major manufacturer models in recent years, the focus with the new Camry has been on losing weight and improving fuel efficiency. The 2.5 liter model manages an 8% improvement over the outgoing model, but the real surprise is the hybrid. If you thought the current model is frugal, the new one is going to blow you away with a massive 24% gain in fuel economy.
On the other hand, it does not come as much of a surprise that the cosmetic improvements have been more iterative than revolutionary. Toyota is not going to break the mold here to the extent Jaguar did with the new XJ. Camry customers are inherently conservative – at least in their automotive tastes – and this is reflected in the low-key styling. Possibly feeling the squeeze from Korean competitors, Toyota has also focused on improving the quality of interior materials.
With Toyota experiencing a 20% slump in North American sales in the three months up to July according to reports, Toyota HQ must be hoping for their 9-year best-seller Camry to come riding to the rescue.
Source: Yomiuri Online (Japanese)
leave a response
,
trackback from your own site