Nissan will be stopping production of the Teana (called Maxima, Altima or Cefiro in markets outside of Japan) in 2012. This strategic move on Nissan's part will simultaneously free-up their plant in Kyushu in south Japan for production of their increasingly-popular Note model, while at the same time moving all production of the Teana offshore to the US. Teanas sold in Japan will then be imported, just as currently happens with their March model.
The sharp increase in the value of the Yen has driven Nissan to come up with a medium-term strategic goal of reducing the number of cars manufactured for export within Japan by about 1/3 from the 2010 figure of 610,000. With so few Teanas being sold in Japan, this model was a logical target for this policy.
The presence of a non-Japanese at the helm is surely part of the explanation for this unsentimental attitude to offshore production. Nissan is already far ahead of the other Japanese automakers in making certain home-market models overseas, and this latest move with the Teana is simply going to cement that position.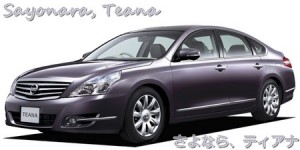 Although the Japanese may well be concerned about a similar "hollowing out" of their auto industry as occurred in countries like the UK in the 70s and 80s, Carlos Ghosn has been quick to offer reassurances that Nissan will retain 1 million units of manufacturing capacity within Japan itself.
Source: Nikkei (Japanese)
leave a response
,
trackback from your own site