Details are emerging of Toyota's new Aqua model which will be unveiled in December at the Tokyo Motor Show. The 1.5 liter hybrid is expected to achieve 40 KM per liter in the Japanese fuel economy test cycle, handily beating the current king of the hill, Toyota's own Prius with its already superb 32 KM per liter rating. This would also make it the most frugal hybrid on the global market.
Toyota is basing the new Aqua on the existing Vitz model (a compact hatchback called Yaris in other markets), but instead of simply making a Vitz hybrid, Toyota is going to make this a distinct model in its own right.  It seems likely that the styling may well be similar to the Prius c concept debuted at the Detroit Auto Show in 2011.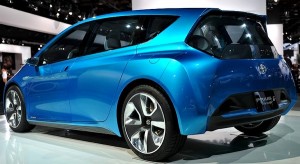 Japanese media reports suggest that Aqua may not be the final name, and that also this name could be more of a brand name rather than the name of an individual model. (Much in the same way that "Prius" has become more of a brand name with the introduction of the Prius Alpha / V minivan.)
Pricing is also not finalized. Japanese media is reporting that Toyota is considering pricing the car at about 300,000 Yen less that the Prius, which would place it around 1.7 million Yen.
After its initial debut at the Tokyo Motor Show, the new Aqua model will be available for sale in Japan from January 2012.
With new models such as the Daihatsu e:S and Mazda's Demio Skyactiv using regular ICE technology to achieve 30 KM per liter ratings that can almost match hybrid performance, Toyota has clearly felt the need to raise its game with this new model. The fact that it uses the tried and trusted Prius underpinnings in conjunction with the Vitz backbone will also reassure potential buyers concerned with the reliability of this new model.
Sources: SankeiBiz, Nikkei (Japanese)
leave a response
,
trackback from your own site