The RX-8 will soon be no more. That was the news from Mazda last week. Rotary engine car fans wept.
What could they do, though? Emissions regulations and increasingly-demanding fuel economy requirements seemed to have sounded the death knell for this technology.
However, cryptically, there were still hints that Mazda was continuing development of the rotary engine. But what's the point of an engine without a car to put it in, I hear you cry?
Precisely.
Tweeting in Japanese, @Mazda_PR (Mazda's official PR Twitter account) posted the following message confirming a new rotary-engined model is coming:
"Thank you so much for all your supportive messages concerning the RX-8 and the rotary engine! We are also excited. Mazda is aiming to achieve a breakthrough with the 'Skyactiv' technology, and we are currently zealously working on a new model to house the next generation rotary engine. Thank you for your continued support!"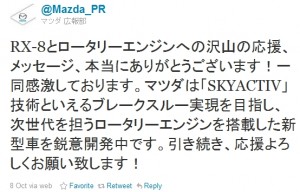 Japanese media (in feats of pure speculation) are guessing that the new car could be based on the Shinari or the Taiki concept cars (although the latter seems a little extreme for our pre-2050 world). Whatever its skin, the heart will be the same: The rotary engine lives!
Sources: Twitter, Response (both Japanese)
leave a response
,
trackback from your own site