Nissan has become the first Japanese car maker to set up a design center in China. "Nissan Design China" joins other overseas design centers in the UK and US as well as two based in Japan, and required an initial investment of 150 million Yen (about 1.94 million USD at current rates.) This follows Daimler's July announcement of a China-based design center.
The center was opened in March this year, but Nissan put off its public unveiling due to the earthquake that hit Japan at that time.
20 designers with an average age in their late twenties currently work in this Beijing facility, and Nissan must be hoping that their work will support Nissan's aim of raising their market share from 6% to 10% in China. To that end they expect a new car design from this design center to be sold in China in two to three years time.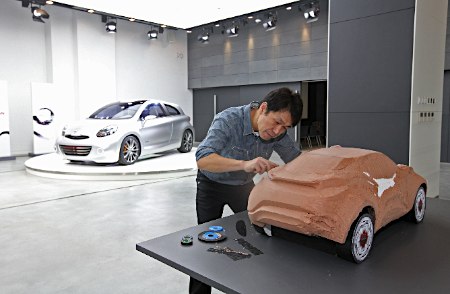 Nissan's design process involves their design centers competing to produce exterior and interior styling that is then used in a globally standardized model. The addition of Chinese designers to the mix will allow Nissan both heighten internal competition as well as allowing the tastes of one of the biggest world markets to be integrated into the product development process.
Senior Vice President Taiji Toyota is bullish in his outlook for this new venture: "We want to be winning internal design competitions by one year from now, and in two to three years from now we want to be introducing high-selling models to the global market centered on China."
I cannot help but wonder whether it is the international outlook of Nissan's CEO, Carlos Ghosn, that is allowing Nissan to embrace international developments more quickly than other Japanese manufacturers. Not only are they the first to set up a China-based design center but they are also moving most rapidly to move production out of Japan to places like Thailand.
Sources: Nikkei, Mainichi Shinbun, Jijicom (all Japanese-language)
leave a response
,
trackback from your own site