Honda's new compact minivan Freed went on sale in Japan on October 28th but has already racked up more than 20,000 orders in the first two weeks – over twice as many as Honda's sales target. Not only that, but 63% of these are for the hybrid version.
The overwhelming interest in the hybrid version could well be due to the fact that it is the only hybrid on offer in the  high roof compact class, and yet pricing starts from just 2.149 million Yen – a number comparable with the considerably less roomy Prius Alpha.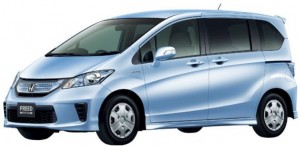 The Prius Alpha has a cabin length of 1.91 meters with an overall interior volume of 3.54 cubic meters, whereas the Freed has an interior that is not only 71.5 centimeters longer, but also has an overall interior volume that at  4.78 cubic meters is 35% bigger. The larger Honda gets a respectable 24 km/l (56.5 MPG), but it cannot compete with the Prius Alpha, which gets 31 km/l (72.9 MPG).
And let's not forget the Freed's sliding rear door. If you have ever parked in narrow Japanese parking spaces, you will know what a boon this is compared with the Prius Alpha's standard hinged doors. Personally, this sliding door alone would swing it for me if I was looking for a compact hybrid minivan.
Of course, this is a case of horses for courses. The Honda may not have the extremely frugal economy of the Toyota, but at the same time it is considerably more car for the money. rapid uptake of both the Prius Alpha and now this Honda Freed is ample proof of market demand in Japan for hybrids of all kinds is very strong.
Source: Searchina
leave a response
,
trackback from your own site