OK, so the GT-R isn't quite fast enough for you? Really? 0- – 60 in 2.7 seconds isn't good enough?
Oh, I see. You want to go racing? FIA GT3, is it?
Then step this way, sir. Nissan has just the car for you: The Nissan GT-R Nismo GT3.
Yes, for the paltry sum of  33.6 million Yen for the Nismo-supported version (for use in Japan, Asia, the Americas and Oceania) or 298,000 Euros for the JRM-supported version (for Europe, Russia and the Middle East) you get the 2012 version of the 2011 championship-winning machine.
And what do you get for all that  money? Well, first of all, a pretty mean-looking machine, as you can see from the photo below. You wouldn't want to meet one of these on a dark night. If the "cooking" GT-R is Godzilla, what does that make this one? The Big Lizard on steroids?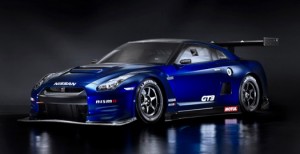 You also get a race-tuned engine, pumping out more than 530 p/S ( > 390kW) at 6,400 RPM. Torque is a bone-crushing 612 Nm + ( > 62.5 KG) at a lower 5,200 RPM on the VR39DETT engine. And all this power is packaged in a 1300KG vehicle. That's 25% lighter than the standard car. Think that might make a difference to the performance? You bet!
All this power goes through a 6-speed sequential 'box and is squirted out the back wheels, as per the FIA rules… which ironically means that the much-improved power-to-weight ratio may not result in such a big improvement in off-the-line acceleration performance over the standard car. On the other hand, the improved aerodynamics should mean a higher top speed and better cornering speeds.
You can see this new 2012 model at the Autosport International being held in Birmingham, UK from January 12th to 15th, exhibited alongside the FIA GT1-spec GT-R that won the 2011 FIA GT1 crown. If seeing the car in an exhibition hall isn't exciting enough, tune in to the Dubai 24 hours being held from the 12th to the 14th of January and watch it in action on the circuit.
There's one place you won't be seeing one of these any time soon — and that's the Japanese car auctions. But if you're looking for a Japan-spec road-going GT-R, you will find there is a great selection to choose from.
Source: Car Watch (Japanese), Nismo (Japanese)
leave a response
,
trackback from your own site