What is black matte and red that reminds you of bats?
If you guessed anything to do with vampires, then you're probably looking for the Twilight blog next door. The answer I was looking for is "The Dark Knight Rises Juke NISMO" – a special one-off edition Nissan Juke to be given away to the winner of Nissan's Built to Thrill competition.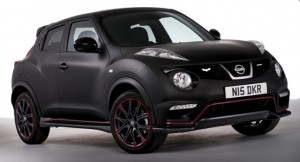 For those of you interested in the marketing side of things, the Dark Knight Rises Juke NISMO is the result of a mutually beneficial partnership between Warner Bros. and Nissan. Christopher Nolan's Dark Knight Rises is set to go on sale in just three days on Monday, December 3rd. What better time for Nissan's UK division to unveil the top prize for their newest brand-loyalty-inducing competition? It's truly a brilliant move; the stylized one-off SUV is absolutely stunning, sure to have both auto enthusiasts and Bruce Wayne wannabes clamoring for their chance to win.
Of course, to say that the Batmobile-esque Juke is the result of nothing more than marketing initiative is probably being unfair. You can't create something so elegant, so perfected, without a source of legitimate inspiration. The deep midnight-black matte finish, the subtle Batman logos placed in just the right places, the uplights and downlights inside the vehicle reminiscent of the iconic Gotham City spotlight, and even the classic red accents that pay homage to the original Lincoln-based Batmobile from 1966, all point to a team of designers both knowledgeable and inspired in their execution.
Specs-wise, the Dark Knight Rises Juke will be one of the high-performance NISMO variants underneath all the decoration and flash. If you'll recall, the production model Juke NISMO was originally unveiled in September at the Paris Motor Show (which you might remember more clearly for the tear gas incident). It includes a number of exterior tweaks, including lower bumpers, wider wings, and modified spoilers on both the grill and the tailgate, although the polished 18-inch alloy wheels have been replaced with gloss black ones. You'll also notice a sweet shark fin antenna sitting near the rear of the Juke-mobile.
Internally, the Dark Knight Rises Juke NISMO features a tuned up DIG-T 1.6L petrol engine with 197 horsepower. The Juke NISMO comes in 4WD or 2WD, but the Batman-themed special release will feature the slightly faster 2WD version, which is capable of rocketing from 0 to 60 in under 8 seconds. And as any crime fighting vigilante would be happy to know, the NISMO version has a slightly adjusted chassis compared to the normal Juke, allowing for tighter cornering and generally improved driving dynamics.
If you're interested in the un-Batman Juke NISMO, Nissan starts taking orders in January with production scheduled to begin in March, 2013.
For those of you in the UK interested in taking part in Nissan's Built to Thrill competition, you can find more information at builttothrill.co.uk. The rest of us will have to pick up a copy of Dark Knight Rises next week and use a bit of imagination to quench our deepest automotive longings.
Source: Carscoop
leave a response
,
trackback from your own site