According to Mitsubishi Motor Corp. (MMC) President Osamu Masuko, things have gotten as bad as they're going to get for the brand's US presence. In a recent interview with Hans Greimel of Automotive News (autonews.com), Mr. Masuko clearly laid out his plan for the brand's future resurgence in the US market.
Are their plans desperate, daring, or just plain daft? That will be up to you to decide after getting the full scoop below.
First, it's important that you get a real idea for how poorly Mitsubishi is doing in the States. Over the past year, the entire American automotive market has shown a growth of 14%. However, in the same amount of time Mitsubishi has seen a 28% decline in sales. During the last fiscal year Mitsubishi sold close to 70,000 cars, while this year they are on track to sell a measly 55,000 units by March 31, 2013. To be fair, this year Mitsubishi did cut four vehicles from their US lineup (Eclipse, Endeavor, Galant, Spyder), which certainly could correlate to an overall decrease in sales. Nonetheless, there's no denying that Mitsubishi is floundering, and if things don't turn around in the next few years it would be unsurprising if they left the States altogether.
So, what is Mitsubishi's game plan going forward? How are they going to revive their share of the US market?
Step 1. Increase volume, particularly of the Outlander
One car in particular seems to be the cornerstone of Mitsubishi's North American presence going forward, and that car is the Outlander. The Outlander Sport was introduced to the US market in July of this year, and Osamu Masuko believes just having that car available for a full year will have a dramatic impact on their sales. Furthermore, Mitsubishi will be introducing a redesigned Outlander about halfway through next year to maintain their forward momentum. Then, in January of 2014 they plan to release the Outlander plug-in hybrid to the US market (it's being released in Japan in January, 2013).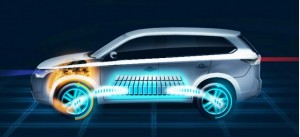 Not only is Mitsubishi putting a heavy emphasis on the Outlander trio (Outlander, Outlander Sport, Outlander plug-in) from a marketing standpoint, they're also ramping up production at their Normal, Ill. factory. Currently the automotive plant is producing 50,000 units per year, but plans are in place to increase production to 70,000 units per year. Obviously, all of these Outlanders won't fit within Mitsubishi's share of the US market, so they plan to export Outlanders from Normal to places like Latin America, the Middle East and Russia. The aim of this maneuver is for Mitsubishi to make the most of their manufacturing capabilities without requiring significant expansion.
Step 2. Introducing the Mirage
Mitsubishi's newest member of their lineup is the Mirage, which debuted at the Paris Motor Show earlier this year. With the slogan "Less is more", the Mirage is intended to appeal to the sub-compact segment with a smaller size, lighter weight, but better fuel efficiency than the competition (hello VW Polo).
Interestingly enough, the Mirage is also a pivotal piece of Mitsubishi's plan to increase their presence in Europe, not just in North America. Although, the Europeans will see a battery-powered version at some point, while us Americans will only ever get the 1.0L and 1.2L 3-cylinder petrol engine variants. Mitsubishi has plans to release the Mirage to the North American market sometime around September of 2013.
At the end of the interview with AutoNews, Osamu Masuko made it clear that Mitsubishi has no plans whatsoever to withdraw from the US market. He believes that the plan to make the US into an exporting base along with the slow increase of their lineup should stymie the steady reduction in sales they've faced over the past year. However, I'm sure Suzuki never planned to withdraw from the US market, either. Don't get me wrong, I'm never rooting against a Japanese car manufacturer, but is Mitsubishi is doing enough to avoid that fate?
Source: AutoNews
leave a response
,
trackback from your own site