Today Honda published a press release with a little something special for us Japanese car enthusiasts. The actual press release comes in under 100 words, but the accompanying teaser image is worth 1,000 words and more.
What has Honda decided to tantalize us with this time?
A mysterious sketch of a brand-new compact "Urban SUV Concept" crossover….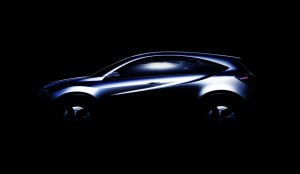 Unfortunately, for more information — including detailed specs — the press release states that we will have to wait for the 2013 North American International Auto Show (NAIAS) in Detroit next month. On the other hand, a lack of details in no way inhibits wild speculation throughout the online automotive community, so let's get right to that. Already sources like Autoblog.com have tried to shed some light on what exactly this teaser image could be previewing.
First, though, let's look at what little Honda has told us about this crossover. In the press release they say that the image portrays "a sporty and dynamic SUV profile with a spacious, functional interior". Not much to go on, but it does point us towards what Honda will try to impress us with come January. Since Honda is highlighting the interior, chances are that's where a lot of the most noteworthy features will be. This fits the trend that we've seen develop over the past few years of automakers devoting substantial attention to how the driver feels from inside the car. When we finally get to see the car, no doubt Honda wants us to be impressed with how comfortable we are inside, not just how well it performs on the road.
We've taken guesses about what features are going to separate this new "urban SUV concept" from current models, but what name is this compact crossover going to fall under? Autoblog.com speculates that this teaser image is a preview of the promised Fit-based crossover. Over the past week, the automotive blogosphere has been alight with news of Honda's plans to expand the Honda Fit's model range, including a CUV crossover and a sedan, so it makes sense that this could be the teaser image of that car.
It's no secret that the Honda Fit has sold astonishingly well across the globe, and Honda anticipates that a Fit-based crossover would be an excellent addition to the US market. In fact, a key player in Honda's plan to ramp up sales 18% by 2017 is a new production plant in Mexico aimed at pumping Honda Fits into the US market starting in 2014.
To be fair, we don't know if the new Honda Fit crossover and sedan will actually be classified under the Fit name, but we do know that they will be produced. Also, remember that this is a lot of speculation, and we won't know anything for sure until the Detroit Auto Show in January. Nonetheless, this teaser image looks pretty sleek, and I will be very excited to see what Honda has in store for us next.
leave a response
,
trackback from your own site