The world is finally as it should be once again… Honda is back at the top in the US with their redesigned 2013 Accord having claimed Consumer Report's best in class award for four-cylinder sedans. After a disappointing performance last year, Honda is back stronger than ever with a vehicle to be proud of. It seems as if Honda listened to everything Consumer Reports didn't like about their previous vehicles and fixed those problems specifically for 2013.
The end result is a feature heavy sedan with good fuel efficiency and a reasonable price to cement its place at the top. The primary contenders that the Accord beat out for the gold were the Toyota Camry and Hyundai Sonata – two excellent vehicles in their own right. Of course, in Japan, Honda is always playing second fiddle to Toyota, but in the US it has often had the upper hand over the years.
To remind those of you who may have missed it, last year Consumer Reports decreed that the Honda Civic should be avoided like the plague. Their review outlined how the 2012 Honda Civic was cheaply made and ugly, although they said it much more eloquently… They used words like "less agile" and "lower interior quality than its predecessor". Even though a fully redesigned Honda Civic is not being released this year, Honda did make sure that the 2013 Civic is improved in those certain areas; it has a more spacious interior and an improved chassis.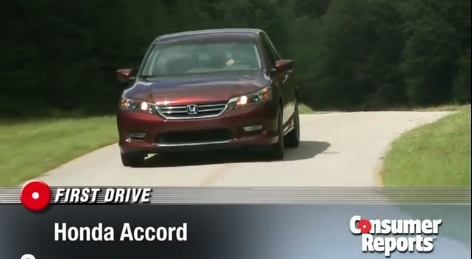 Either way, this year there is no question of Honda's dominance in the Consumer Reports. Jake Fisher blatantly said that "Honda missed the mark with other redesigned models in recent years, but it nailed this one." In fact, the Honda Accord is good enough to warrant top spots not only for its 4-cylinder model, but for its 6-cylinder model as well. The Accord claimed the top spot in the 4-cylinder sedan category, but it also nearly beat the Camry v6 and Camry Hybrid for best mid-size car, period.
So, what specifically makes the 2013 Honda Accord so appealing to the ever-critical vehicle testing director, Jake Fisher? Here are some of the things he liked:
 It's 2-inches shorter, which makes a big difference in how the car feels on the road.
It still offers great visibility, with a thin wind-shield pillar and minimal obstruction.
An efficient but powerful new 4-cylinder engine with Honda's EarthDreams technology, featuring direct injection and a new CVT
Best-in-class fuel economy thanks to the improved engine and reduced vehicle weight
A very spacious interior for both front- and back-seat passengers
Quieter inside the vehicle than he's been used to hearing in Honda's past
Better steering than he's experienced in recent Honda vehicles
As you can see, the 2013 Honda Accord is undoubtedly an excellent vehicle, and well deserving of its place in Consumer Reports' rankings. On top of all the excellent features, Jake Fisher also noted that the vehicle remains fairly affordable compared to its competitors, which is obviously important. It's always good to hear when the traditionally top-ranked Japanese manufacturers pull off another home run, and the new Honda Accord is just that. It's fun to drive, efficient, robust and affordable… Definitely a car worth considering in 2013 and beyond. To learn more, just check out Consumer Reports' video below:
Source: Carscoop
leave a response
,
trackback from your own site