With the North American International Auto Show finally peeking over the horizon, it's no surprise that we are seeing a sudden deluge of previews, concept cars, press releases and spoilers flooding the automotive news-scene. Yesterday we got all googly-eyed over other Japanese car maker's show vehicles — the Lexus IS F-Sport spoilers, and already today we've seen final previews for Toyota's Furia concept. However, what I'd like to draw your attention to today is something we haven't seen before – a preview for Nissan's new crossover concept, the Resonance.
The Resonance is slated to make its world premiere at the NAIAS, otherwise known as the Detroit Auto Show, next Tuesday morning. Clearly Nissan is releasing teasers now in order to build interest for its new concept. And what a teaser this truly is… The only information we have about the Resonance other than a single artistically-darkened rendering of the concept is a single sentence-long statement:
"The Resonance is the latest in a series of envelope-pushing crossover designs from Nissan, fusing bold, breakthrough styling with hybrid-electric powertrain technology."
As you can see, Nissan really isn't giving us very much to go on. However, that's never stopped us before… Let the wild speculation begin!
Listening Carefully to the Resonance
First, let's look at what we can see in the single photo that Nissan has graced us with…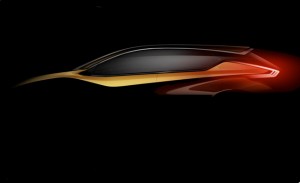 The image portrays a sleek SUV with a fairly low silhouette, but with very distinct lines, and a particularly accentuated butt. The photo hints at a slightly elongated front clip, an almost liquid-feeling shoulder line, and you can barely make out what appears to be a pronounced lip along the rear wheel well.
As for the short statement that Nissan included with the teaser, there are a couple of noteworthy elements to expand on. Most notably, the "hybrid-electric powertrain technology" is likely referring to Nissan's new turbocharged 2.5L engine package that includes a CVT dual-clutch transmission and a lithium-ion battery. Otherwise, it could refer to a highly efficient petrol-electric powertrain.
The only other word of note in Nissan's Resonance statement is the word "crossover"… This is fairly self evident, so the fact that Nissan felt the need to classify this concept serves to point us towards the Nissan Murano. We know that the next generation Nissan Murano won't actually be available until 2014, but we're expecting to see a final production model by the end of 2013. It seems very likely that the Resonance concept is a preview for Nissan's boundary-pushing crossover. Since we know that Nissan may be planning to move production of the Murano to the US to improve market-accessibility and decrease exporting costs, it makes perfect sense for the new crossover to make its world premiere here in the States.
In the end, the teaser for the Resonance concept that Nissan is dangling in front of us today has done its job well… I am very excited to see what this vehicle looks like when it is finally unveiled at the Detroit Auto Show. If you haven't already, I suggest you take some time to review some of the other vehicles that will be on display at this year's first big automotive event. Fortunately, even if you don't, we'll have plenty of coverage to keep your mouth watering right here on this blog. Stay tuned!
Source: Carscoop
leave a response
,
trackback from your own site