Japanese car manufacturer Nissan has finally unleashed specs for its NISMO-tuned 2013 Nissan 370Z. The normal version of the 370Z got a hefty 30% price reduction this year, so the newly released NISMO tune-up package will allow buyers to put those savings towards improved performance and a better driving experience. Plus, with the NISMO tune-up you can now get the 370Z in Magma Red… That's just one of the many improvements you'll have access to thanks to Nissan's performance-oriented Motorsport division. Learn more below.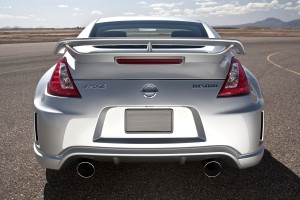 The Down Low on the NISMO
Let's start with the performance side of things, shall we?
First, the engine – at 335 horsepower, the 370Z NISMO offers a 5% improvement over the 324bhp engine in the normal 370Z. You may think that a 5% improvement doesn't sound like a whole lot, but once you consider that you're also getting better torque and hair-trigger throttle response, things start to become more interesting. In addition, Nissan claims that the extra "oomph" will be available at lower rev-ranges, meaning you'll get moving faster, well, faster.
But more than the engine, the real benefits are coming from an improved aero package. You'll find that the NISMO upgrade also includes a highly tuned bodykit that dramatically improves aerodynamics and downforce. Apparently the 370Z NISMO produces the same downforce as the Nissan GT-R supercar. This is all thanks to an enormous rear diffuser with dual exhausts, a prominent rear wing, a front splitter, and nice wide side-skirts with a ride that's a full centimeter lower to the ground.
To further improve performance, Nissan has fitted the rear-wheel-drive 2013 370Z NISMO with large 19 inch alloy wheels featuring a custom-made tire compound specifically for the upgraded model. Also assisting in the way the wheels interact with the road surfacce are improved springs with more resilient dampers, along with bigger, stylishly-painted brakes.
Once You Peek Inside…
You'll be greeted by a beautiful interior upgrade package including custom NISMO driving seats, complete with sporty red and black trim along the steering wheel, seating and console. If nothing else, driving the upgraded 370Z will be more enjoyable thanks to a Bose 6-speaker sound system, Bluetooth compatibility, and a HomeLink Universal Transceiver. The rear-view mirror even auto-dims itself so that annoying drivers behind you can't cause headaches with overly-bright headlights!
Hopefully by now you can see that the NISMO upgrade package is well worth the extra cash. When you consider that you're not even losing any fuel economy with the performance enhancements (although it's not terrific to begin with), there is no reason not to put that 30% savings towards the NISMO upgrade when the new Nissan 370Z finally goes on sale this summer.
Sources: Autocar, Leftlane News
leave a response
,
trackback from your own site