Even though the Detroit Auto Show technically still has two more days until doors are closed, we're already starting to see previews for the next big automotive event of 2013 – the Chicago Auto Show. It probably won't have quite the fanfare of the always-impressive Detroit Auto Show, but it will definitely have the numbers. Toyota alone plans to occupy a massive 45K square-foot booth in order to display near 50 new and current Japanese cars in their lineup, including the newly-revealed Furia Corolla.
Today we learned what another of those 50 vehicles would be. In a 3-sentence-long statement that barely qualifies as a press release, Toyota quickly covered their plans to unveil the 2014 Toyota Tundra at the Auto Show next month. In fact, since the press release (more like a Tweet, surely?) doesn't even break 100 words, you can find it displayed in full below:
"Redesigned 2014 Toyota Tundra Full-Size Pickup Truck to Make World Debut at 2013 Chicago Auto Show"
TORRANCE, California, January 24, 2013 – Toyota will stage the world debut of the new 2014 Tundra full-size pickup truck at a press conference at the 2013 Chicago Auto Show.
The press conference will be held on Thursday, Feb. 7, at 9:00 a.m. (CST) in the Grand Ballroom at McCormick Place. The reveal of the redesigned Tundra will be broadcast live via Livestream at: http://new.livestream.com/toyota.
But we can exclusively reveal the 2014 Toyota Tundra ahead of time in our own web special.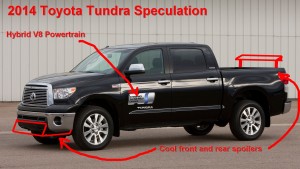 See? That has to be one of the shortest press releases ever published, right? Regardless, it amazes me that even after the Lexus IS and the Furia Concept, Toyota is still keeping gas in the tank.
For those of you keeping track, the last time we saw a reboot for the Toyota Tundra would have been all the way back in 2007. So, the full-size Japanese pickup is certainly due for a generational overhaul. The completely redesigned Toyota Tundra promises to be a sight worth seeing, and a competitive Japanese presence in the full-size pickup segment would certainly be a pleasant surprise.
Of course, "redesigned" doesn't necessarily equal "new model", so let's hope that's actually what it is. It would be a massive letdown to see a Tundra that's simply been updated with a new trim package or something. The current Tundra is too dull; it just doesn't have what it takes to compete with the bigger-is-better American automakers. To be fair, there isn't a single Japanese manufacturer that specializes in pickups the way Dodge or Ford does, so perhaps expecting real competition is unreasonable.
Either way, we'll find out for sure when Toyota pulls the veil off the 2014 Toyota Tundra in a couple weeks. When the time finally comes we will assuredly have the coverage you need to stay in the loop, so make sure you plan to stay tuned throughout press portion of the Chicago Auto Show.
Also, for our international readers – Don't worry! Even though Toyota is planning to deliberately showcase their American presence at the Chicago Auto Show, there are still several vehicles you'll want to look out for such as the futuristic Toyota Fun-Vii Concept, and a very slick looking Lexus LF-LC blue concept.
Source: Autoblog.com
leave a response
,
trackback from your own site