Yesterday we had a chance to talk about one of the most radically unique concept cars coming to the Geneva Auto Show next March – the Toyota i-Road. Today we're going to talk about another Japanese car coming to the Geneva Auto Show, but this one is a little more conventional in nature. And, our international readers will be thrilled to hear that this is one Japanese car that will NOT make it to America.
Have any guesses yet?
The car we're going to be looking at today is none other than the Suzuki S-Cross.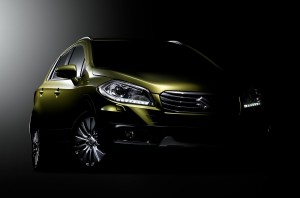 If you stay consistently in tune with the automotive industry, you'll remember that last September we saw the S-Cross concept at the Paris Motor Show. What we're going to see at Geneva will be the final production model of Suzuki's "all new C-segment crossover".
As with most previews, we still don't know very much at all about the new Suzuki S-Cross (which isn't even the car's official name), except that the artistically darkened images we've seen so far show a 5-door hatchback surprisingly similar design-wise to the original concept.
We do know that the S-Cross will come as a brand-new vehicle to Suzuki's lineup… It won't be replacing any outgoing vehicle, although it will be complementary to the recently rejuvenated Grand Vitara. Suzuki also tells us that the S-Cross will be available in the UK later this year, and will feature both front-wheel drive and all-wheel drive options, and one of the highest storage capacities among its competitors.
The S-Cross will also feature a brand-new platform architecture that will be manufactured at the Japanese brand's Hungarian factory. The compact crossover will also give customers the choice between petrol and diesel engines, with the clean-diesels coming from Fiat thanks to a previously existing partnership.
Although the pictures we've seen so far leave us literally in the dark, what we can tell is that the Suzuki S-Cross has LEDs surrounding the main headlights, a revamped corporate grille and distinct body lines and exterior design. All in all, the hatchback looks very sleek, and definitely something that our American readers should be jealous of!
What do you think about the Suzuki S-Cross so far? These compact crossovers have been very doing very well in Europe lately… Do you think that Suzuki's new hatchback will be able to compete with the likes of the Nissan Juke or the Honda Fit? Why or why not? Let us know in the comments below:
Source: Autocar
leave a response
,
trackback from your own site