The first time we heard about Toyota's new Tundra was a few weeks ago as a preview for the 2013 Chicago Auto Show. At the time, we didn't know very much about it. We didn't know how extensive the changes would be, and we certainly didn't know whether they would be enough for Toyota to seriously compete with the American-made pickups.
Well, the Chicago Auto Show is here and today we caught our first glimpse of the new 2014 Tundra, which goes on sale in the US later this year. As you continue reading, we are going to cover what this new version brings to the table, and speculate about whether it will be able to compete.
Is That a Ford F-Series? No Wait – It's the New Toyota Tundra!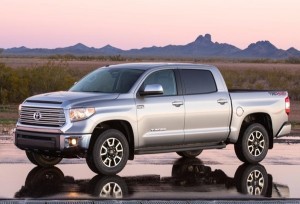 Toyota says that "the redesigned Tundra continues to be a truck with true American roots." I have to agree – those roots are clearer than ever in the redesigned Japanese pickup. In fact, I'd argue that they're a little TOO clear.
First, it's important to remember that the Tundra is designed and manufactured in America, and Toyota has an entire team in the States dedicated to perfecting this truck. Even though Toyota would have you believe otherwise (the press release outlined the many awards the Tundra has received), the Tundra is not performing to expectations. As of 2012, one Tundra sold for every 6.5 Ford F-Series trucks… Pretty abysmal numbers.
After six years of "listening to its customers" and developing the "2014 American-born Tundra", it seems that the best Toyota could come up with is their own version of the Ford F-series. The "new exterior design" is clearly influenced by the F-Series, and the "all-new interior" is almost exactly copied. Carscoop posted a side-by-side comparison of the two interiors, and the similarity is undeniable.
What's New for the 2014 Toyota Tundra?
Besides an attempt to conform to the best-selling pickup truck in America, what else is new with the 2014 Toyota Tundra? Unfortunately, not all that much when you really get down to it.
There are several exterior tweaks, but they are aesthetic in nature, not functional. You will notice a new integrated spoiler, a larger front fascia with a more angular grille, squared off wheel-wells and fenders, and an "all-new bed design [that] helps carry the chiseled character lines all the way down the profile". Both the front and rear bumpers have been cut into 3 separate pieces to minimize replacement costs.
As far as the interior, Toyota says that their design team put significant effort into "styling differentiation between grades and improving the availability of features most important to truck buyers. The all-new interior variations are thematic and cater to a specific customer with a specific budget."
In other words, each of the four different trim packages is supposed to have a different "feel" to it. On the whole, though, the improvements boil down to new seats with better materials, a backup camera on all trim packages, bluetooth integration and blindspot monitoring. Oh, and a dashboard configuration borrowed from the F-Series.
The powertrain options for the 2014 Toyota Tundra are exactly the same as those in the outgoing model. The base trim package features a 4.0L 270hp V6, but a 4.6L 310hp V8 and 5.7L 381hp V8 are also available.
Many of you will remember back to the original Tundra preview when I said that Toyota should NOT simply tweak the aesthetics of their "American-born" pickup truck and call it a new model. Unfortunately, that's exactly what they've done. Worse, the new Tundra clearly copies the Ford F-series, so much so that any American customer would have to be completely ignorant not to see the resemblance.
Steve Jobs (and Picasso) would tell you that good artists copy and great artists steal… Improving an existing idea is the path to success, but replicating it exactly is how you become forgotten. The 2014 Toyota Tundra is a copy of the F-Series, not an improvement on it, so I can only anticipate that this new Tundra will continue floundering among its more original American competitors.
Source: Autoblog
leave a response
,
trackback from your own site