The first generation of the Nissan Note is a car that has done surprisingly well in the European market. It's small, sporty, fuel-efficient and fun to drive – enough so that the car is finally making its way into the American market as a revised Versa Note. Meanwhile, Europe is ready for a new generation, and that's what Nissan showed us today in preparation for the Geneva Motor Show next month.
Basically, the new European Nissan Note is all about improved technology. Nissan is aiming to compete in the B-segment with a unique style and feel, similar to how they approached the Qashqai and Juke. To do this, they're moving away from the mini-MPV feel of the old Note and closer to the traditional hatchback.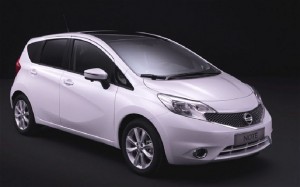 In addition to design upgrades, the new European Note will also be getting a slew of mechanical enhancements and modifications. But first let's talk about the aesthetics:
Compared to the new Note on sale in America and Japan, Europe's new Nissan Note has a slightly sleeker exterior appearance. The front grille has a different, more luxurious design, the body lines are more defined, and even the rear-view mirrors are more sculpted. The new version will also be available with a "Dynamic Styling Pack" that will add black accents and more clearly defined air intakes on both the front and rear.
Europe's new Note will feature a few interior modifications too. The dashboard layout is the same, but has been tweaked to be more fitting for a premium car. The interior trim quality is also improved from the American and Japanese models.
Mechanically speaking, the next generation Nissan Note has a completely revamped steering system and a more finely tuned suspension and chassis. These mechanics are designed to be more fitting to the sleeker shape and lighter weight of the car. All in all, Nissan tells us that this should make the Note easier, smoother and more fun to drive.
Herve Genin, the Nissan Note's marketing manager, was very clear about what all these upgrades are intended to accomplish. He says, "Like the Qashqai and Juke, we're offering the best of both worlds here: something that's agile to drive but still roomy, and good to look at inside and out and still be comfortable."
It's hard to tell from the photos and specs alone, but if the new Nissan Note comes anywhere close to the two cars Genin mentions, I can only imagine it as a booming success. Nissan's certainly proven they have what it takes to dominate a European market segment, and I don't see any reason they can't expand their empire even further with this new generation of the Note.
What do you think? Is the re-design for Europe moving in the right direction? Will the Note be the next Juke?
Source: Autocar
leave a response
,
trackback from your own site