Today we're taking a break from the normal auto-news coverage to talk about one of the as-always-most-important Japanese cars of the 2013 model year – the 2013 Toyota Camry. As one of the best-selling vehicles ever made, knowing where the current model year stands is important for effectively evaluating other sedans.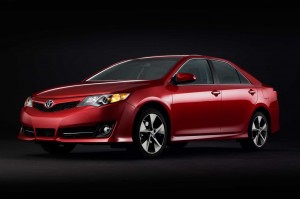 Logically speaking, you'd better have a good reason to buy a sedan that's not a Camry. As you continue reading, you're going to learn exactly what this year's Camry bring to the table. You'll learn what's new, what stayed the same, what's cool and what's droll.
What's New in the 2013 Toyota Camry?
The interior and the technology are definitely what has changed most since last year. For example, every single 2013MY Camry LE comes with a large, 6.1 inch touchscreen audio display. Every single new Camry of any trim package comes equipped with Blind Spot Monitoring to make changing lanes both easier and safer. And Bluetooth is integrated into every trim package, too.
The Camry LE is definitely the trim to see the most interior upgrades. One of the really cool new features for the 2013 Camry Hybrid LE is that the automatically-included Display Audio System shows you your energy level and fuel consumption. It's not a life-saving feature by any means, but it's really neat being able to have that data displayed in front of you, while you're driving. It's a constant reminder of why you bought a hybrid in the first place!
The LE trim with both hybrid and gasoline powertrains includes new Soft Touch dashboard materials, as well as a slightly different color scheme for the interior trim. If you opt for leather seats, those also include stitching to match the class your color scheme.
What's Stayed the Same?
The 2013 Camry carries over the same mechanics from last year. Since there are no stark complaints with last year's model, that shouldn't be a problem.
Depending on the trim package – L, LE, SE, XLE, SE V6, and XLE V6 – you will get either a 2.5 L four-cylinder engine or a 3.5 L six cylinder engine (guess which ones get the V6).
If you opt to pair one of the four-cylinder models with an electric motor, you will not only enjoy improved fuel efficiency but also an extra 24 hp, up from 176 hp to 200 hp. Meanwhile, the 3.5L engine gives you a surprisingly powerful or 268 hp.
Conclusion
As you can see, Toyota has adopted a very sound motto for the 2013 Toyota Camry – if it ain't broke, don't fix it. The mechanics are still the same. Great. The interior hasn't changed TOO much, but it got some tweaks and some really sweet technology upgrades. Even greater. It's a safe bet that the Camry will end up as the best-selling sedan in America once again this year, so any other sedan had better be able to step up, Japanese-made or otherwise.
leave a response
,
trackback from your own site