As many of you know, the highly anticipated international Geneva Motor Show is set to take place next week. Already, we've previewed several new cars and concepts from some of the most popular Japanese brands, but we have one more for you today – The Toyota FT-86 Open concept.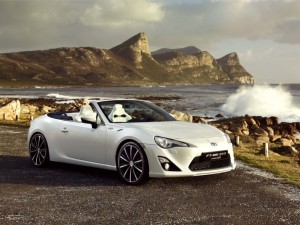 Last night, a small photo set and accompanying video of the new Toyota FT-86 were leaked on the Internet. Today, Toyota UK hastily released the official media along with a press release just in time for Geneva. This is a similar approach they took with the Furia concept right before the Detroit Auto Show; they released an assortment of promotional material the week before to build anticipation, but not so much in advance that the anticipation wears off before the show.
So, with pictures, video and a press release, what do we know about the new Toyota FT-86 concept convertible?
Toyota FT-86 vs. Mazda Miata
Since its original unveil at the 1989 Chicago Auto Show, the Mazda MX-5 Miata has been one of the most popular convertibles on the market. And it doesn't take an auto-enthusiast to see why – the Miata roadster is stylish, hip, sporty and fun, and available with a plethora of aesthetic and performance variations.
Toyota feels like their GT86 coupe has what it takes to compete with the little Mazda roadster, and that's where the FT-86 concept comes in.
According to the press release, the FT-86 Open concept was "created to test the water for the possible introduction of a convertible version of [Toyota's] globally acclaimed GT86 sports coupe." You can bet that Toyota will be keeping a close tab on how both press and public react to the FT-86 at Geneva.
What's The Difference Between the GT86 and the FT-86?
Truth be told, not that much. According to Toyota, "the concept has been designed to deliver the lively, highly engaging and accessible performance and dynamic abilities of the GT86 with the added appeal of top-down motoring." Toyota is taking the classic "don't fix it if it ain't broke" approach to the FT-86; they know they have a popular coupe and all they want to do is port it into a popular convertible.
Still, there are a few differences. For example, the FT-86 features larger wheels and a restyled interior. And of course, there is the folding soft top that you won't find on the GT86 coupe, but that distinction is probably obvious.
If you'd like to get a better taste for what the Toyota FT-86 Open concept might bring to the table when/if produced, then take some time to browse through the photo set Toyota included with the press-kit.
Source: Autoblog
leave a response
,
trackback from your own site