Yesterday, we told you that the Subaru VIZIV Concept was on our radar as one of the top Japanese cars to look out for at the 2013 Geneva Motor Show.
Well, Geneva is here. Doors for the press opened this morning. And guess what?
The Subaru VIZIV looks awesome.
Yesterday we couldn't have told you anything about this concept car other than its name. VIZIV, inspired by the phrase "Vision for Innovation". Today though, we can tell you much more. As you continue reading you'll learn what VIZIV means for Subaru and why you should care. Plus specs, of course.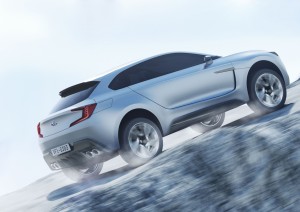 What Does the VIZIV Mean for Subaru?
Some of you may remember that our initial prediction was that the VIZIV would be nothing more than a directional concept for Subaru. In other words, the VIZIV wouldn't ever be produced on its own, but it would indicate where Subaru wants to go in the future.
Well, we were right and we were wrong. The VIZIV Concept DOES indicate where Subaru wants to go in the future. But it does more than that, too.
The Japanese brand has never been known for its style. Their best-selling vehicle – the Subaru Forester – does so well because it's reliable with a spacious, functional interior. For many drivers, that's enough. But Subaru wants more.
With its pronounced front fascia, boomerang-esque slit headlights, Aston Martin hexagonal grille and bulging wheel arches, the VIZIV certainly looks a lot better than what we've come to expect from Subaru. How this new design language will be applied to the rest of Subaru's lineup remains to be seen, but let's just say we're excited.
But wait! There's more…
Will VIZIV Bring a New Crossover to the Lineup?
Let me preface this by saying that the VIZIV is very clearly a concept car. When/if a car like this makes it to production, the vehicle you drive off the lot will be significantly more tame than what we've seen in Geneva — especially the huge gull-wing door!
That being said, Subaru did make a point to let us know the VIZIV's specs. That would imply that this showcar will eventually be a road car.
The VIZIV concept apparently features a plug-in hybrid powertrain with a 2.0L turbocharged diesel engine and two electric motors for the rear wheels. Apparently, this allows the VIZIV very flexible driving, with varied power for the front and rear wheels depending on road conditions and whether the car is traveling straight or on a curve.
Technology is the name of the game inside the VIZIV, too. Without sacrificing any of their dedication to clean, spacious interior design, Subaru has packed in all sorts of new technologies. For example, both driver and passengers each get their own digital information display with a number of custom features. For the driver, this means extensive vehicle controls and stats at your fingertips. For the passengers, this means increased connectivity and entertainment options.
As you can see, there is almost too much to cover about the new Subaru VIZIV concept. If you take nothing else away from this article, take this: Subaru is ready to prove they're more than just a Forester.
Stay tuned for more coverage of Japanese cars at the 2013 Geneva Motor Show!
Source: Car Scoop
leave a response
,
trackback from your own site