At the beginning of ぁst week, you'll remember that two of the concepts we previewed for the 2013 Geneva Motor Show were Mitsubishi's GR-HEV pickup truck and CA-MiEV hatchback. We'd been fortunate to stumble on some spoiled teaser photos, but other than that we didn't really know very much about these two vehicles.
Well, because we here at Integrity Exports don't like to leave loose ends, today we're going to talk about the two concepts that Mitsubishi brought to Geneva. And, at the very end of the article we'll have an extra little surprise for you, too.
Let's take a look at Mitsubishi's two newest concept cars:
Mitsubishi GR-HEV Concept Pickup Truck
First up is the very stylish GR-HEV pickup truck concept. Honestly, Mitsubishi didn't really give us all that much information about either of these two concepts, but we can probably guess that the GR-HEV, at least, previews the next-gen L200 pickup, perhaps coming in 2014.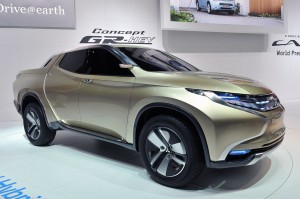 As you can see, Mitsubishi has put together quite the eye-catching pickup with this new GR-HEV. They converted the current trend of a sloping belt-line into truck form, and I have to say, it looks great. It's entirely unprecedented in its design, and if the production model looks anything like the show car, then I see this pickup selling very well. And we don't even know the stats!
All we know about the technical side of the GR-HEV concept pickup is that it'll feature a diesel-electric hybrid powertrain. Apparently, this newly developed hyper-efficient engine will allow the GR-HEV to output only 149 g/km of CO2 – very impressive emissions.
Mitsubishi CA-MiEV Concept Hatchback
Next up is the Mitsubishi CA-MiEV hatchback concept, which comes with a little bit more information than the GR-HEV.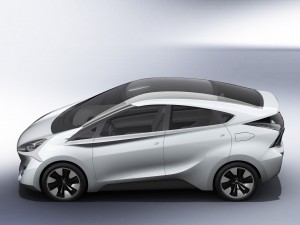 For example, we know that while the GR-HEV likely previews a specific pickup truck, the CA-MiEV is more broadly applicable. This concept car is a prequel for where Mitsubishi wants to go with their all-electric vehicles. And as is clear from this curvaceous five door hatchback, they're going
there in style.
The CA-MiEV demonstrates many of Mitsubishi's newest electric-technology developments. For example, the car features a more efficient electric motor, new regenerative braking technology, a new type of high-energy battery, and even wireless charging for maximum convenience. All of these new features will be housed inside of a lightweight, aerodynamic body that apparently allows the vehicle a LEAF-rivaling driving range of 186 miles (300km).
Mitsubishi Bringing New G4 Concept to Bangkok
All right, I told you we had a little surprise for you, and here it is:
At the 2013 Geneva Motor Show, Mitsubishi also announced that they would be bringing a new subcompact sedan concept to the Bangkok International Motor Show on March 24th. This announcement is fitting because the image included in the press kit shows a vehicle that clearly takes after the CA-MiEV concept we've covered here. Stay tuned for more info later this month.
All in all, I think this was a very good motor show for Mitsubishi. Both of their new concepts look very intriguing, and I'll be excited to see what production models eventually result from what we've seen in Geneva.
leave a response
,
trackback from your own site