The next big automotive event of 2013 is right around the corner. The New York International Auto Show opens to the press next week. As you might expect, we've had a deluge of new previews and promises from many of the most popular automotive brands over this past week.
Today, we're going to talk about Subaru and which two cars they plan on bringing to New York.
XV Crosstrek Hybrid
First up, Subaru plans to unveil their first ever production-ready hybrid vehicle at the 2013 New York Auto Show. As you might guess from the subtitle, the specific car to receive hybrid treatment is the 2014 Subaru XV Crosstrek.
This is big news and, honestly, it's about time! This is all part of Subaru's ambitious emissions targets for its fleet over the next few years.
Although Subaru has remained tight-lipped on the specifics of their new hybrid XV Crosstrek, they released a semi-informative video along with the news which should give you a bit more information. Check it out below:
And in case you're not much for videos, the specifics include:
* Subaru BOXER Engine
* Lowest emissions of any AWD crossover hybrid in America
* Manufactured in a zero-landfill plant
* Features 8.7 inches of ground clearance
Subaru also confirms that the 2014MY XV Crosstrek Hybrid will arrive later this Fall. You could be driving a hybrid Subaru by Christmas time!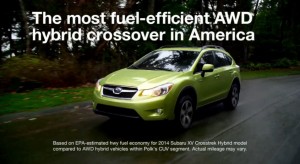 So, that's all we know about the new Subaru XV Crosstrek Hybrid, but there was another car, remember?
"Performance Concept" – Possibly Previewing the New Impreza WRX / WRX STi
Subaru also ambiguously told us that we would see a brand-new "Performance Concept" at the 2013 New York International Auto Show. If you thought they were tight-lipped about the hybrid Crosstrek, then their stance on this new Performance Concept is downright tight-lipped. We know literally nothing.
The only speculation – and remember, it really is speculation – is that this new performance concept could be a preview for the next Subaru Impreza WRX (and WRX STi). If so, then this is probably a lot more exciting to some of you than the Crosstrek Hybrid.
Of course, we also know that Subaru has firmly dedicated themselves to keeping the Subaru BRZ regularly updated since it sells so well. So, the Performance Concept could be that, too.
No matter what the "performance concept" exactly ends up previewing, I'm definitely excited to find out. I'm sure that you are too. And, while I think we all know the XV Crosstrek Hybrid will be impressive, it'll be nice to finally see the full specs on this new Japanese crossover. Stay tuned next week for coverage of these two Subaru vehicles and more.
Thanks for reading!
Source: Carscoops
leave a response
,
trackback from your own site