The 2013 New York Motor Show is finally upon us, and with it a plethora of new and revised Japanese cars to ogle at. To kick things off, we thought we'd start with two of the most highly anticipated vehicles, Japanese or otherwise, to be unveiled in New York – the Subaru XV Crosstrek Hybrid and the Subaru WRX Concept. As you continue reading, you're going to get everything we now know about these two vehicles.

Subaru XV Crosstrek Hybrid
You probably know that the Subaru XV is not a new car… It's been selling well for about a year now. However, the XV Crosstrek Hybrid is a big deal because it's Subaru's first ever hybrid vehicle.
The new XV Crosstrek Hybrid features the same 2.0L 148hp boxer engine that we've enjoyed in the standard version, but it's been tied to a 13.4bhp electric motor and 100V nickel hydride battery. The whole configuration adds about 200 lbs to the XV's weight, but it apparently has virtually no impact on the car's storage capacity since it's been carefully fitted into the rear of the car.
The hybrid configuration allows the Subaru XV Crosstrek Hybrid to manage 31 mpg city and 34 mpg on the highway. This is actually better fuel economy than a non-hybrid 2013 Honda Accord, by point of comparison. Additionally, Subaru tells us that the hybridized Crosstrek is capable of an electric-only mode at low speeds, although we don't know very much about it.
Other than the hybrid powertrain, there are very few differences between the current Subaru XV and the hybrid version we've seen in New York. The dashboard panel has been improved and updated to give the driver information about the car's power consumption, but other than that the biggest difference is a new paint job – Plasma Green Pearl. Subaru says their hybrid will go on sale in the US later this year.
Subaru WRX / STi Concept
As happy as we are to see a hybrid from Subaru, the car that really gets our heart pumping is the new Subaru WRX Concept. This is a car we can get giddy about… I mean just look at it!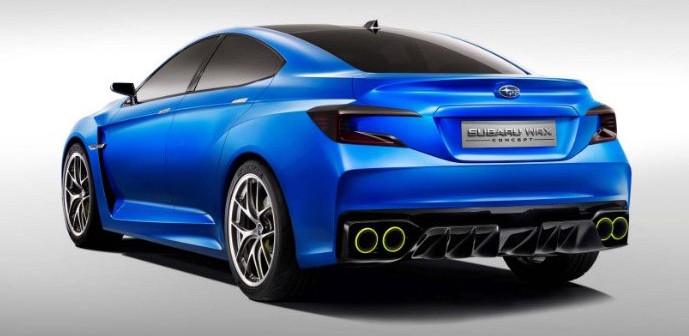 The new WRX Concept comes after much begging from Subaru fans for an updated version of the Subaru Impreza WRX. The Impreza has always been a great car, but the WRX and WRX STi performance editions have always felt… Forced. Like Subaru took the Impreza and simply jammed on some pronounced lips and a powerbulge. It just felt unnatural.
The Subaru WRX Concept, on the other hand, is enough to make you forget all about the Impreza's past woes. You can tell that this concept was built from the ground up with performance in mind. Aggressive styling, massive 20 inch alloy wheels, a huge hexagonal grille, a rear diffuser and a powerbulge that actually looks needed all contribute to a performance concept that we can't wait to see more of. Plus, the electric blue paint job with lime green accents is very appealing.
And did you see the carbon fiber roof? So sleek! And functional too – It allows the WRX to maintain a lower center of gravity.
Subaru is keeping quiet about when we can actually expect to see a production model of the new WRX…. apparently they want to see how customers react before they move forward. Well, I hope that you're reading this Subaru, because I would love nothing more than to see this car on the road! Internet, you know what to do: Call your local Subaru dealer now!
As for you, my dear reader, I hope you'll take some time to look through the available photos of the Subaru WRX Concept and XV Crosstrek Hybrid. Both cars look great, although they cater to two very different demographics. Either way, thank you for reading, and stay tuned tomorrow for more coverage of the 2013 New York Motor Show.
leave a response
,
trackback from your own site