For those of you who don't know, the Auto Shanghai 2013 motor show is this weekend from April 20 to April 27. As such, we'll see several new previews this week for what different automotive manufacturers will be bringing to the show. Today we're going to be talking about Mitsubishi and the Concept G4 saloon that they'll be bringing.
First, though, we should make it clear that the Mitsubishi Concept G4 will NOT be making its debut in Shanghai, contrary to what you might have read today on AutoCar. The G4 made its original debut last month at the Bangkok Motor Show. But, being that Bangkok is a rather small event and coverage was limited, it would be understandable if you missed it.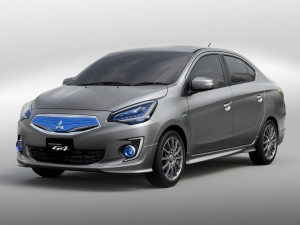 So, with that slight issue out of the way, what's the scoop on Mitsubishi's new concept sedan?
As you may be able to tell, the Concept G4 is heavily influenced by the Mitsubishi Mirage, which is to go on sale in the US later this year. The G4 study is more or less a Mirage sedan, which becomes much more obvious when imagined without all the blue tints and design frills seen in the show car. The G4 is even built on the same RISE chassis (Reinforced Impact Safety Evolution) as the Mirage, and will use the same 1.2L 3-cylinder MIVEC engine paired with a front-wheel-only CVT.
So, what separates the G4 from the Mirage other than its classification as a sedan?
Actually, not that much. The show car in Mitsubishi's released images looks extremely distinctive, but at its core it has very similar design elements to the Mirage. An abbreviated front clip, large doors, and a straightforward linear design all define both the Mirage and the G4. Furthermore, both cars place a heavy emphasis on interior space and back-to-basics features.
Similarities between the Mirage and G4 aside, Mitsubishi emphasized that one of the most appealing characteristics of the new sedan is its light-weight design. They say that as a light-weight vehicle with a short nose, the sedan will offer drivers "agile and pleasing" driving dynamics.
Unfortunately, the G4 will require spectacular driving dynamics if it's to do well at all, since the overwhelming response to the G4 has been negative. People just aren't all that excited about the Mirage, and a sedan version doesn't make things any better. The Auto Shanghai show car looks good, sure, but the plain version you'll see on a showroom floor will likely look bland. Put simply, Mitsubishi needs to do something different to stand out from the crowd, and instead they're just doing more of the same.
Whatever you think about the Concept G4 pictured here, you'll have to wait until Auto Shanghai to formulate a final opinion, and even then the production model could have some slight changes.
For anyone who's interested, Mitsubishi will also be bringing their CA-MiEV Concept to Shanghai, but regular readers here have already seen it from Geneva. Either way, stay tuned later this week and next week for more coverage of the exciting Auto Shanghai 2013 International Motor Show.
leave a response
,
trackback from your own site