It's been over 20 years since the original Honda NSX made its debut. In the early 90's, sports cars were a hot trend and the NSX was Honda's way to get in the game; it was the first Japanese car that could compete with the Italians and Germans in terms of both style and speed. Now it's been two decades and Honda is ready for a refresh. Apparently, the rest of the world is too, especially the UK.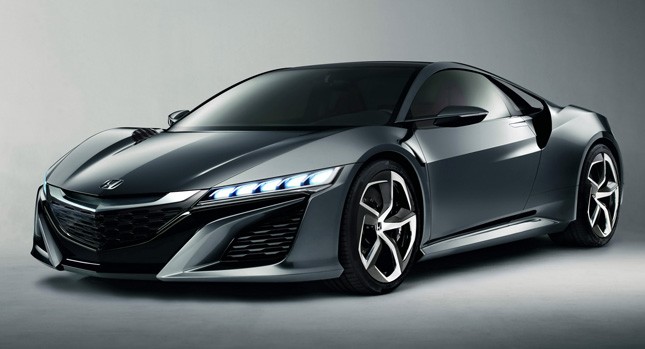 UK demand for Honda's next generation NSX is so great that Honda UK has allowed passionate drivers to pre-order the hybrid sports car for a meager £5,000, or about $7,600. This would be slightly less intriguing if the launch of the Honda NSX (or the Acura NSX for our North American and Chinese readers) was close at hand. But, according to Managing Director for Honda UK Phil Crossman, "We are still two years away from the launch of the car and yet we've received over 20 deposits, and that's before we've even announced prices or seen the final production car."
In other words, even though the Honda NSX won't be available until 2015, even though we have no idea what the final production model will look like, even though we have no clue how it will drive or what it will cost or even how much horsepower it will have, 20 buyers have already committed to the car. Twenty!
Admittedly, the first generation NSX had 25 pre-orders, but that was one year instead of two before its launch. And, as the NSX Concept gains more popularity through venues like Auto Shanghai this weekend, demand for the vehicle will only increase. This is pure speculation, but I wouldn't be surprised if Honda UK doubled their deposits before the end of 2013, or if the offer became available in other markets besides the UK.
Either way, one thing is for sure…
The Honda NSX looks awesome. If I lived in the UK and had an extra £5,000 to burn, I'd pre-order one too. The new NSX will be particularly distinctive because of its hybrid powertrain, featuring a direct-injection V6 engine with a Super Handling All-Wheel Drive system. The NSX will use two electric motors to independently regulate torque to each of the front wheels, allowing for race-car-level acceleration and turning.
Other than these general powertrain details, however, we don't know very much at all about the new NSX. The only other noteworthy detail is that Honda will also develop a GTE version for American motorsport competition.
As hinted earlier in the article, the Honda NSX will be making its Chinese debut at Auto Shanghai 2013 this weekend. Of course, it will actually be old news compared to some of the other vehicles Honda is bringing to the show. Stay tuned for a full lineup of new Japanese cars and concepts that will be making their debut at Shanghai. Thanks for reading!
leave a response
,
trackback from your own site