After discussing Nissan's new Nürburgring-tuned GT-R Track Edition yesterday, it seems appropriate to shift gears only slightly today and discuss the actual Nürburgring 24-hour race coming up in a couple weeks. Namely, we're going to talk about a very special returning driver, Mr. Akio Toyoda, CEO of Toyota Motor Corporation.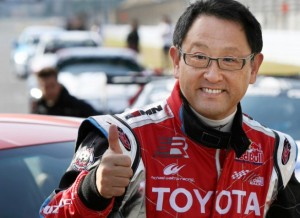 As many motorsport fans likely know, this won't be the first time (or the last time, probably) that Mr. Toyoda has taken to the tracks at a Nürburgring 24-hours endurance race. This will be the third Nürburgring in seven years for Akio; he also raced in 2007 and 2009. He's also helped test-drive Toyota's race-tuned vehicles even in the years that he doesn't actually race.
You've got to admire a man who truly loves his job, as it's clear Toyoda does. He's one of the few men in the world who feels just as comfortable in a track suit as he does in a business suit. The guy even keeps his own personal motorsports blog, which you'll enjoy if you can read Japanese.
This year, though, things will be different. According to the AFP, a Toyota spokesperson said, "It's not merely a private activity. This is part of the company's effort to produce good cars by judging the performance of our production under such severe conditions."
This probably means that Toyoda's team will be driving a different vehicle than usual this year. The last time Toyoda raced in 2009, he helped bring his team to 87th out of 170ish driving a mighty Lexus LF-A. This year, now that he's CEO instead of just the vice president, we're betting he'll be driving something a little more down to earth. This seems especially likely since Toyota just finished producing the Lexus LF-A for good, at least as far as we know.
If not the Lexus LF-A, what will Toyoda drive at the Nürburgring this year? Unfortunately, we don't know. While a race-spec'ed GT-86 seems a likely possibility due to the car's popularity, there's also a chance Toyota would have Toyoda simply bring a more marketable Lexus model… Perhaps the new Lexus IS?
Let us know what you think in the comments below.
Source: Car Scoops, AFP
leave a response
,
trackback from your own site