In case you didn't already know, Nissan is dead serious about electric vehicles. Not hybrids. Not fuel cells. Pure electric vehicles, that's where it's at. Or at least, so Nissan is convinced. They were convinced back in 2011 when they originally pledged to sell 1.5 million EVs, and they're still convinced now after 62,000 total Leaf sales by the end of April, 2013.
The bold face of Nissan's confidence? Passionate CEO Carlos Ghosn of course!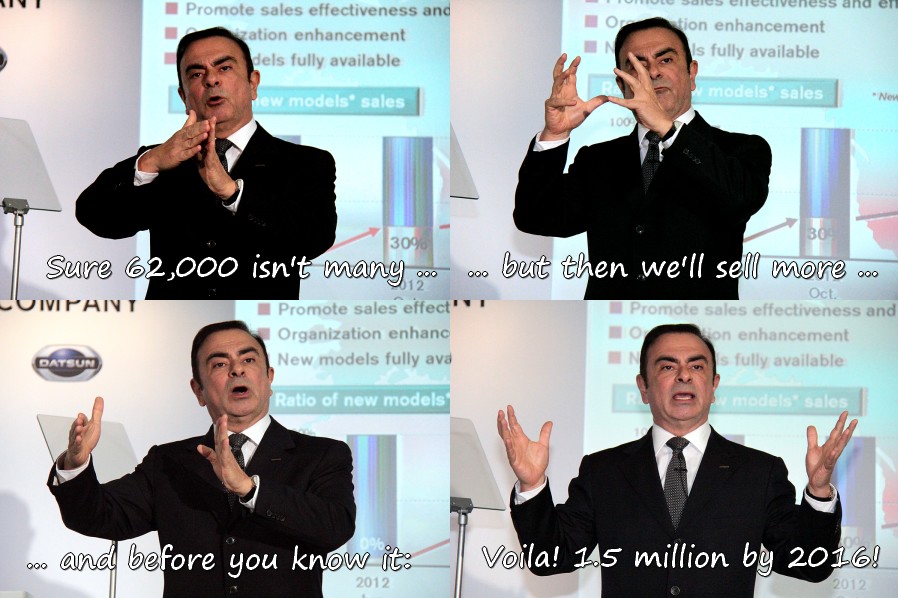 Carlos Ghosn Still Says 'Yes' to 1.5 Million EVs
At a conference in Nissan's Yokohama headquarters last Friday, Ghosn emphasized the Leaf's acceleration in sales as the important variable to look at. He acknowledged that, yes, 62,000 sales isn't very many, but the Leaf is on an upward trajectory – sales have doubled since this time last year. That's where Ghosn is choosing to focus.
Still, even a man as determined as the CEO of the second largest Japanese car brand can be realistic. He knows that 1.4 million Leaf sales in 3 years is unlikely. He tactfully acquiesced, "I maintain the 1.5 million. I think it will be difficult to reach in 2016, but without any doubt it's still on the radar screen."
While anything more than 400K to 500K units is probably unreasonable to expect, Ghosn does have a point. Sales are increasing consistently, and the Leaf continues to become more affordable and more efficient.
2013 Leaf Gets Official EPA 115 MPGe Rating
Nissan independently estimated the 2013 Leaf's fuel economy when the vehicle was first released. However, it's taken several months for the EPA to do its undoubtedly vigorous testing and come to an official conclusion. The verdict? The Nissan Leaf is officially 15% more efficient than it was last year at 115 MPGe. On top of that, the new Leaf has a 5% larger single-charge range than the old one, and it does so with a 90% charge.
In addition to heightened efficiency, the 2013 Nissan Leaf is also safer than ever. In fact, according to the Insurance Institute for Highway Safety it's one of the safest vehicles currently on the market. Last Thursday the Nissan Leaf joined its distant relatives, the Altima and the Infiniti M37, on the IIHS's Top Safety Picks for 2013.
And let's not forget the most important improvement – the 2013 Leaf is cheaper than ever with a base price of $28,000. Depending on where you live, you can now get a brand-new Leaf for less than $20,000. There's no denying that the improved economics have had an effect on sales.
In the end, I think we all know that 1.5 million Nissan EVs by 2016 isn't going to happen. But, I like that Nissan and Ghosn are still fighting for it. 2016 is a long shot, but 2020… Who knows?
Sources: Autoblog Green, Autoblog Green, The Truth About Cars
leave a response
,
trackback from your own site