This has been a very interesting year for the Toyota Camry. 2013 marks the 30th year of the Camry's existence, and for those of us keeping score, this will be the 12th year in a row that Toyota's flagship sedan has sat as the best-selling car in America. Coincidentally, this year is also when the Toyota Camry has surpassed 10 million sales in the US.
With the achievement of these two magnificent milestones, you'd think that the future of the Toyota Camry would be brighter than ever. However, as you continue reading, you'll find that some of Toyota's competitors may finally be coming close to overthrowing the king.
Toyota Camry Offers Unprecedented Reliability and Resaleability
First, let's look at what's made the Camry so popular these past 11 years. Over and over again, the unique selling point Toyota hammers home about their sedan is its resilience. Toyota claims that of the 10 million total Camrys sold in America, 6.4 million are still on the road today — that's 65% of all Camrys ever to roll off the lot of a US dealership! Apparently, 773 of those are 1983 originals.
A look at the economic side of the Toyota Camry will reveal that there's only one other car in the mid-size sedan segment with a higher 36-month estimated value – the Honda Accord. After three years, a 2013 Toyota Camry is expected to be worth about 54% of its original value; the current Accord is estimated to be worth about 56%. The segment average is just a hair over 50%.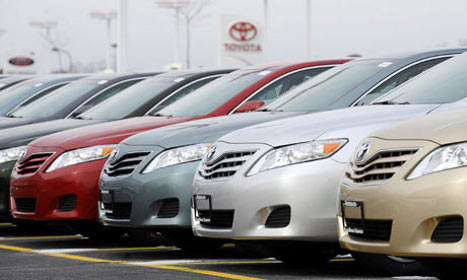 At this point, you may be starting to scratch your head. If the Camry is more robust than ever (and it is), and it's projected to retain the second-most value in its class, then what's the problem?
Increased Incentives and More Fleet Sales Cause Worry
The problem is what Toyota is being forced to do in order to retain the Camry's place at the top of the food chain. According to a an interesting story over at Automotive News, Toyota insiders are worried that increased incentives and a higher percentage of fleet sales will have a negative long-term effect on the Japanese car's resale value. In other words, because Camrys are being sold cheaper and in greater volumes than ever before, they can't possibly retain their value. It's basic supply and demand.
But, believe it or not, there are some smart people working at Toyota. Even though they currently average $2,750 in incentives per Camry ($450 more than at the beginning of 2013), they're not doing it in ignorance. Automotive News reports that Bill Fay, Toyota Division General Manager, had this to say about the Camry's future, "We will do what is necessary to get the vehicle into the hands of new and loyal customers. Incentives will remain as competitive as they need to be."
In other words, Toyota now has the most competitive incentives in its class, and they want to keep it that way. Really, it makes sense. Even if the resale value of the Camry suffers over the long haul, if total sales improve, it's at least a wash. And, it's reasonable to assume that most drivers who buy a Camry once will be impressed enough to do so again… Toyota is counting on brand loyalty over economical positioning for long-term success.
Is the Toyota Camry Headed Downhill?
Should you be worried that the Toyota Camry will lose its title as the best-selling car in America in 2014? Probably not, but anything is possible.
Should you be worried that the Camry will continue to be an excellent, robust vehicle, one of the top sedans in the world? No. Absolutely not.
Most importantly, is Toyota worried? Not a chance. "We couldn't be more excited about Camry's 10 millionth sale in the US," said senior VP Bill Carter. All eyes ahead. Toyota's got a plan.
Sources: Autoblog, Car Scoops
leave a response
,
trackback from your own site