With Toyota leading Japanese automaker sales (and world-wide sales recently), the number one car company is looking to bring a little bit of its success to its subsidiary, Daihatsu. Whether this works or not is yet to be seen, but if Toyota's recent sales numbers are any indication of how their company's vision is being implemented, it sure looks like Daihatsu is poised to take advantage of it.
At the recent Indonesia International Motor Show, Daihatsu showed off three concepts: the D-R, the D-X and the UFC. But while these stellar concept cars have been seen (in part) before at the Tokyo Auto Show last year, the big news surrounding the company was the Ayla, all set for local launch.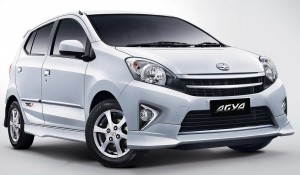 The Ayla is a mini five-door made for the city. Measuring in at just over 3.5 meters (11 ½ feet), the Ayla comes exclusively with a 1.0-liter, three-cylinder gasoline engine. While small, this car still packs a 65 horsepower engine along with 64 pounds per foot (87Nm) of peak torque. While this is nothing groundbreaking in and of itself, the fact that it is being announced at a time when Toyota is doing so well shows the expansionist mindset that the company is taking: a sure sign that optimism has taken hold once again, bolstered by strong numbers.
The Twins: Alya and Alga
But perhaps what makes the Daihatsu Alya so intriguing is the fact that Toyota joined the Alya at the Indonesian Auto Show with its twin car, the Agya. Releasing twin cars isn't something that's unheard of, but when a subsidiary of an industry giant does so, it should make people sit up and take notice. The implications of the sales to come are far too great for investors to not pay attention; the Daihatsu Alya and Toyota Agya aren't just cars, they're business statements.
The Agya was built by Daihatsu as part of an OEM agreement between the two automakers. The two cars are nearly identical with the only difference being that the front bumper and grilled designs are different.
However, the Toyota Agya will offer a TRD S version of the car which will be fitted with a mild aero package that consists of front and rear aprons, side skirts and alloy wheels. Toyota's aero package will also come with interior upgrades, but nothing off the wall. Toyota's Agya will keep the 1.0-liter, three-cylinder gasoline engine for both versions of the Agya.
So, the big question is: just how connected are these two cars going to be in terms of sales? If Toyota has anything to say in it, the answer is: very. It seems like Toyota can't make a wrong move lately; we think it's safe to say that this trend is going to pass on to Daihatsu; after all, what are twin siblings for?