With Toyota it was F1. For Subaru it was rallying. It's not quite such a glamorous choice for Mazda, but an equally significant one nonetheless.
Mazda is stopping in-house design and production of commercial vehicles at then end of the current line-up's life-cycle. And what are they going to be doing instead? Well, not unlike Toyota and Honda, the reason for this strategic change at Mazda is to focus their business on highly fuel-efficient passenger cars.
OK, so there is a bit more to it than that. They wouldn't be backing out of the commercial vehicle market if it was a cash cow for them. The "push" from behind that was also driving this decision was the falling demand for commercial vehicles in Japan, as well as a large step up in crash safety standards that arrived in the latter half of 2010. Decreasing profits in a shrinking market are obviously not very attractive.
My only question with this reasoning would be this: When it comes to commercial vehicles like light vans and trucks, diesel is the fuel of choice. Now, the last 10 years or so have seen the diesel market increasingly squeezed in Japan with ever stricter regulation making registering diesel vehicles almost impossible in Japan's major urban areas.
But the story of diesel is just starting to change, and Mazda is at the forefront of that change with their new "clean diesel" engines — one of which just debuted in the new CX-5. Now, perhaps Mazda is simply thinking of licensing their diesel engine technology to another manufacturer, but if they were going to stick with commercial vehicle production, this new "clean diesel" would undoubtedly be a big draw.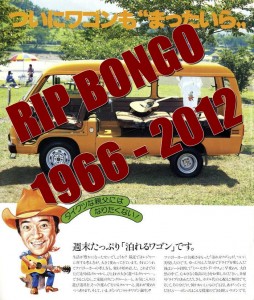 Sadly, this means the end of the funkily named Bongo, famous for spawning the even more amusingly-titled Bongo Frendee. The Bongo has been with us since 1966, selling over 3 million units. although a shrinking market and tough competition has seen sales drop to just 20,000 per year.
The irony is that Mazda started in 1931 with a 3-wheeled truck called the Mazda Go, so parting ways with the commercial vehicle business is a painful departure from its historical roots.
Equally sadly, it means no more commercials like this one for the 1980 Mazda Bongo:
Apparently Mazda's sales force had argued forcefully for a continuation of the commercial vehicle line up, but Mazda could not justify the 10 billion Yen plus (over 120 million US dollar) price tag of designing and manufacturing the Bongo's replacement. Mazda is looking at alternative options of selling other manufacturer's vehicles under license instead.
With large losses predicted in the current financial year, Mazda just does not have any wiggle room, and has decided to focus its full energies on its fuel-efficient passenger car technology, specifically Skyactiv.
Source: Nikkei (Japanese-language)