In customary automotive industry fashion, Infiniti has set their sights on a very specific customer that they want to engage with by 2016. They're developing a brand-new hybrid sports car just for this audience; a car that will play a key part in increasing Infiniti's sales 250% by 2020.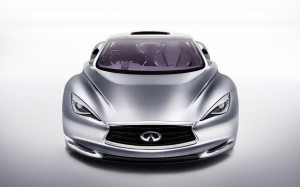 Selling to "Little Emperors"
So, who is Infiniti looking to target with their upcoming hybrid sports car?
26 to 29 year-old premium car drivers with one child and an affinity for green technology. Apparently, these buyers have absurdly high expectations and accept only the best without compromise. Infiniti's executive vice president, Andy Palmer, informs us that "these customers are widely referred to as 'little emperors' – people who are used to getting what they want."
Incidentally, this is a very similar crowd as the one catered to by Tesla's Roadster. In fact, Palmer specifically emphasized that the new hybrid coupe would be, "like the Tesla sports car option, but with more flexibility in terms of range." And, ironically, also like the Tesla, the Emerg-e also relies heavily on technology from development partner Lotus Cars in the UK.
To put it another way, Infiniti (along with the rest of the automotive industry) has taken notice of Tesla's surprising success. Now, they want a piece of the pie. Therefore, they're developing a premium option of their own with an extra twist – better range.
With intentions out of the way, what else do we know about Infiniti's future luxury hybrid sports car?
The Realization of Essence and Emerg-e Concepts
Over the past several years, we've seen two relevant concepts from Infiniti. Namely, the Essence Concept unveiled in 2009 and the Emerg-e Concept unveiled in 2012 both preview this upcoming luxury hybrid.
The Essence Concept was a pure study car in celebration of Infiniti's 20th anniversary. It was specifically unveiled with no production plans in place. Instead, themes and cues seen in the Essence Concept would influence later models. The Essence was the first concept to showcase a new Adeyaka design language, which will be realized in this future Japanese luxury car.
The Emerg-e, on the other hand, was unveiled with a hint of production feasibility. No promises were made, but a prototype was manufactured and unveiled in mid-2012. As a high-performance hybrid capable of running on pure-electric with a range of 300 miles, the Emerg-e is the car that directly previews what we'll see coming in the next 3 years.
Because we know that the Emerg-e Concept previews the unnamed luxury hybrid coupe, we can make some basic speculation about powertrain specs. The Emerg-e used a 1.2L petrol engine paired with two separate electric motors capable of 402bhp, and that's probably a pretty good place to start. We also know that the future coupe won't use the GT-R's monster engine because it would be, "not suitable for Infiniti." In other words, the car needs to be quiet and smooth, like soft velvet. The 'feel' of the car is just as important, if not more so, than the performance.
&rel=0
All in all, I'm excited to see what the Emerg-e Concept eventually turns into. This hybrid luxury coupe will be a great addition to Infiniti's lineup, but they'll need something more if they're aiming for 250% growth in just 7 years. After all, there aren't THAT many "little emperors" in the world, and there's already stiff competition for their attention.
Sources: Autocar, Autocar, Autocar