According to NHK, this is the smallest full fire truck in Japan — and perhaps the world. Just brought into service by Shibukawa City in Gunma, Japan, this tiny fire engine is based on a kei truck, but it has been converted to carry a full-on pumping unit capable of hosing out 900 liters of water per minute.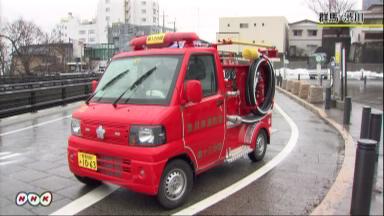 The conversion was carried out by a specialist fire appliance conversion company in Utsunomiya, and is claimed by the city and the Japan Fire Appliance Association to be the very first kei truck-based fire appliance in Japan. (Kei trucks are sometimes used in support roles, but this is the first time one has been converted to be a fully-fledged water pumping appliance.)
At about half of the size of the truck it replaces, Shibukawa City fire department officials claim that it will increase protection for citizens and tourists in this spa resort town where the streets are very narrow — too narrow for full-sized fire trucks to negotiate effectively. It's only 3.4 meters long and 1.5 meters wide, after all!
My only concern is whether it will be able to carry enough water for its 900 liters-per-minute pump to attack a fire for anything more than say … 20 seconds. Let's put it this way: I hope there are lots of fire hydrants available.
The NHK news video is in Japanese, but it's worth watching to see the little fella in action cruising the narrow streets.