Yesterday, Lexus published their first official word on what new goodies they'll be bringing to the 2013 Frankfurt Motor Show next month. There are two of them; one is a mystery, the other is the European premiere of the Lexus GS 300h that the world saw for the first time at Auto Shanghai earlier this year.
First, let's run through a quick refresher course on the Lexus GS 300h…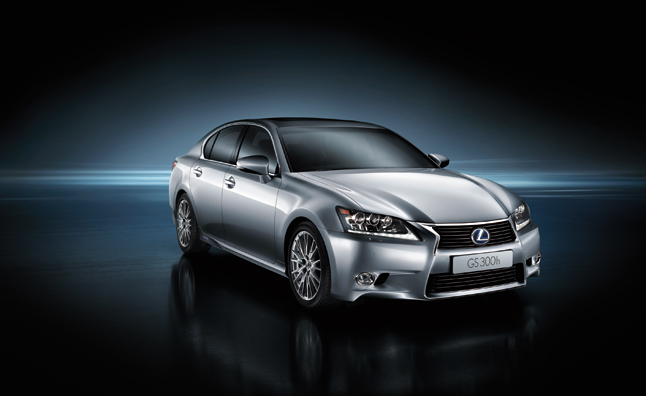 As you may or may not recall, the Lexus GS 300h is a premium hybrid sedan that will be sold everywhere but the US, supposedly in dealerships by the end of this year. The version we saw in China featured a 2.5L petrol engine paired with a compact electric motor and a CVT. This fuel-conscious vehicle emits a measly 110g/km of CO2, which is one of the best in its class.
According to the press release, Lexus sees the GS 300h at the heart of the E-premium segment. The car is aimed at fleet and business customers who have an eye for cost of ownership. With 220hp, they're certainly not looking to attract the performance junkies. Instead, they're looking to attract corporate customers who desire luxury, affordability and driveability all wrapped into one vehicle.
Now, onto the newer, more exciting concepp…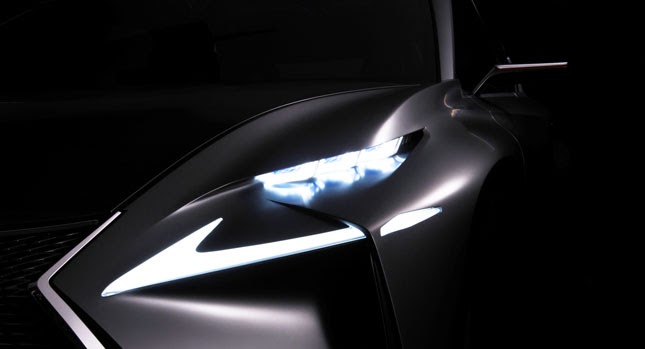 As per the usual protocol for motor show previews, Lexus provides us with nothing more than a single cryptic image to whet our appetite. All we can tell from the picture is that this new premium vehicle will likely feature an aggressive aesthetic theme – the deeply slanted headlights, the prominent lines running along the front clip, the large wheel wells and the sporty mesh grille all point to a performance-oriented vehicle.
There is some debate as to whether the image depicts a compact crossover, which would herald the coming of the Lexus NX Concept, or a coupe, which would herald the Lexus RC or RC-F. Personally, I can see why you might think this looks like a compact crossover, but the faint outline of what look to be low-riding bucket seats suggest a coupe or sedan. In addition, Lexus has already hinted at a Tokyo debut for the NX, which leads me to believe that the RC-F is what we'll see in Frankfurt. Either way, the mesh pattern of the grille implies an F-Sport trim level, so the car is bound to be an eye-catcher.
Unfortunately, this is about all that we know about Lexus' new concept for the 2013 Frankfurt Motor Show. As with the other vehicles we've previewed here at Integrity Exports, we'll have the full scoop for you come September 10 when doors open in Frankfurt. Whether the concept heralds the NX or the RC, one thing is for sure – it'll be one of the most talked about cars at the Motor Show.
Thanks for reading, and stay tuned for more Japanese car news and updates!