Friends and fellow automotive enthusiasts, it's been a lovely summer, but it's officially coming to a close. While the rest of the world uses things like "seasons" and "the sun" to measure the passage of time, us gear heads have a much more practical system; we anchor our year around the auto show seasons at the beginning and end of every year. So, after a 3-month dry spell, Honda has finally whet our appetite for new Japanese cars with a teaser for their new low MPV, which will be officially unveiled next month at the 2013 Indonesian International Motor Show.
While I suspect that only a small percentage of our readers will be directly impacted by Honda's newest concept, it's still an interesting vehicle and, let's face it, we're all a little desperate for something new. So, to get things started, here's Honda's teaserific rendering of their new entry-level MPV: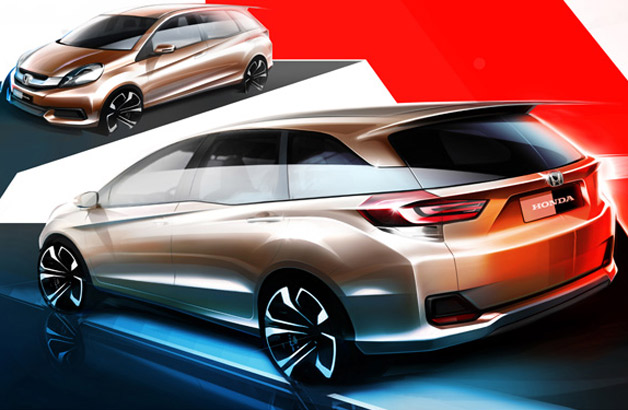 If you were worried that Honda would be incapable of producing an MPV that doesn't look like a re-badged Odyssey, hopefully this rendering will assuage your fears. What we see here is what's called a "low" MPV, or LMPV for short. Instead of being based off the Odyssey, this new concept is based off the Brio, which is a much smaller car. Obviously, since it's a hatchback. The car's origins explain the aggressive exterior styling, the extremely low roofline and the deceptively long wheelbase; it's more like a stretched Brio than a shrunken Odyssey.
From a marketing standpoint, this new MPV is of particular interest because it was developed with the specific needs of the Indonesian market in mind. According to Tomoki Uchida, President Director of P.T. Honda Prospect Motor, "The new Honda MPV has been developed especially for the needs of customers and road characteristics in Indonesia." This makes a lot more sense when you know that MPVs are the largest market segment in Indonesia, and that the country is well-known for for its MPV infatuation. Sort of like compact crossovers in Europe.
Aside from simply being an MPV, Honda plans to move these new vehicles off showroom floors with a combination of ample interior space and excellent drivability. According to Autocar India, Honda insiders have said that the new Brio LMPV Concept has excellent storage capacity even when all seven seats are in use. And it'll come with a tried and true 1.5L gasoline engine, "which provides both sporty performance and good fuel efficiency."
If you'd like to learn more about the new Brio-based Honda MPV Concept, stay tuned for September 19th when the Japanese car will be unveiled in Jakarta, Indonesia at the 2013 Indonesian Auto Show. After the concept is unveiled, Honda plans for production to begin in early 2014 and for sales to begin by this time next year, at the latest.
Sources: Autoblog, Car Scoops