Lexus is showing off one of their latest concept cars, the LF-LC Blue, at the Australian International Motor Show. This car is actually a follow up to the LF-LC that was debuted in Detroit earlier this year. And interestingly, the new color is called 'Opal blue,' which has been inspired by the gem that is found in Australia.
So What's New With The LF-LC Blue?
So what hints about Lexus' future direction can we glean from this concept? For starters it is the petrol-electric hybrid that Lexus has stated will become a new standard for sports cars .The LF-LC has an Atkinson-cycle gas engine with an "advanced high energy battery pack" and an electric motor. Atkinson cycle engines are generally associated with good fuel economy with relatively low power, so the electric motors must be packing a lot of punch to combine to produce 500 horsepower overall.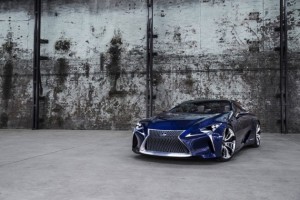 Inside the LF-LC Blue
The company is also making a point to highlight the interior of this concept car. This includes the next generation of their famous Remote Touch system. Gone is the now familiar and famous joystick controller. Instead, the 12.3 inch LCD screen is operated by a separate and smaller touch screen control board or panel. This is also more centrally located for easier access. Like the ever-growing iPhone, these increasingly large screens in cars seem to almost be getting too big. Some people may be relieved that it is not all touch-screen goodness — a keyboard is available for typing in those longer addresses for the navigation system.
So, When Can We Buy One?
It seems that despite all of this attention, Lexus has still not made a final decision regarding whether or not to put the LF-LC into production. There are certainly those within the company that are pushing hard for this option. According to Canadian Karl Schlicht, who heads Toyota and Lexus' product planning, sales and marketing division, this is definitely something he would like to see happen. He has been quoted as saying, "We want to make it and its looking better…"
In the final analysis, this is still a concept car. While there may be a lot of interesting bells and whistles, let's not get too overly excited before we actually see how all this plays out. I, for one, certainly hope that this 'concept car' makes it to production.
Frankly, Lexus needs a bit more excitement as a brand to keep up with BMW, Mercedes, Jaguar et al. As Toyota has found in their competition with Korean makers further down the price range — it's not that hard to knock out a cheap, Toyota lookalike with good reliability these days. The only way to stay ahead is to have that je ne sais quoi of brand desirability.