Having launched their bubble-on-wheels i-MiEV electric car back in July 2009 in Japan, Mitsubishi are now starting to think about what to do with the batteries when these vehicles reach the end of their life cycle.
After all, cars in Japan tend to get replaced earlier and at lower mileages than those overseas. So, despite Mitsubishi's claims that the i-MiEV battery pack will still have 80% of its capacity when new when it reaches 5 years of age, and 70% at 10 years (which seems eminently reasonable in light of how battery packs from the original Prius are holding up better than was originally forecast) it is inevitable that accidents and consumer demand for newer vehicles will see more and more i-MiEVs being taken off the road in the years to come.
Now, the i-MiEV's battery stores a significant amount of power: The more powerful 16 KW/H pack can keep a typical 4-person Japanese home supplied with 1.5 day's worth of electricity. So, old battery packs could be used to store power for homes. That is certainly one avenue that manufacturers like Nissan are pursuing.
But Mitsubishi is thinking bigger: What about getting a whole stack of these and wiring them into the power supply for a factory. And then, what about throwing solar panels into the mix, as well as those batteries that are still mounted in cars – the vehicles that some employees are using for commuting?
This is the Mitsubishi vision for its Nagoya plant in Okazaki (which also happens to be a city I lived in for 2 years):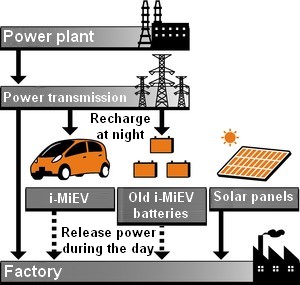 The premise is simple: Use old battery packs from i-MiEVs (and, I would suppose Minicab-MiEVs as well, in time) to store electricity at "off-peak" times, such as during the night when power demands are lower, and then use that power during the day in conjunction with power stored in i-MiEV commuter cars as well as power produced by solar panels to balance demand during the day.
Of course, the irony of this "hybrid" factory arrangement currently is that there is little price incentive to do this. While MMC can be seen as doing its part for the country in the wake of the power shortages that followed March's nuclear accident, as well as protecting itself from future short-term power outages, the fact that off-peak electricity is rarely priced lower than during peak daytime hours means there is little economic incentive for doing so.
Perhaps Mitsubishi is sensing a change in the air? In any case, this kind of experiment that it will start in 2012 will mean it will be ahead of the game if Japan's electricity-generating dinosaurs ever do get pushed into making that change in their pricing structures.
Source: Chunichi Shinbun (Japanese)