351 KM (218 miles) of range, and 0 to 100 kilometers per hour in just 5.4 seconds. And there's more: On the outside it's a compact car ("B segment" in Japan) but it has the interior space of a large executive sedan ("E Segment" in Japan).
What is it? It's the SIM-WIL.
Regular readers will recall the previous prototype from SIM-Drive — the SIM-LEI that I wrote about last year. The SIM-WIL is the latest iteration of EV development for SIM-Drive, who are looking to get the final production model on sale in 2014.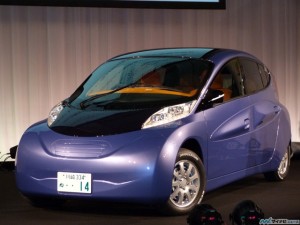 Not only does the SIM-WIL provide a working test bed for the future production car, but it also showcases SIM-Drive's technology — their own design of in-wheel motors, as well as techniques to incorporate as many components as possible into the frame of the car itself. These technologies free up as much of the interior space of the car for the passengers.
With this second generation prototype, the SIM-WIL, undergoing testing, SIM-Drive is now turning its attention to the infrastructure that needs to accompany the uptake of the vehicles themselves in order to make electric cars a viable option. In this regard it is joining with companies not traditionally associated with EV development, such as Sekisui House (home construction) and Mitsui Fudosan (real estate) to focus on three key areas of smart homes, smart grids and smart cities. This new phase is scheduled to be complete by the end of March 2013.
Apart from wondering how much the finished car will cost, and whether you will be able to get it outside Japan, the only other question on your mind is probably this: What the heck does "WIL" stand for? Well I will be glad to enlighten you – "With Innovation and Link".
And with some more "innovation" and "link" "luck", we will all be driving cars like this a few years from now.
(Here is a video of the launch presentation in Japanese. The presentation includes a brief video of the car in action.)
Sources: MyNavi.jp, Zaikei (both Japanese-language)
Corporate site: SIM-Drive (English)