Despite owning a daughter company (Daihatsu) that specializes in kei cars (mini cars with small engines sold in the Japanese domestic market), Toyota has decided that it wants to have another kei brand – Pixis – that will launch with its first model the Pixis Space on September 26th. This will mark one year after Toyota announced its intention to enter the kei car market segment.
To call this a "new" car is stretching it a bit, because the Space is simply a rebadged version of Daihatsu's Move Conte (pictured below). With prices ranging from 1.12 million to 1.61 million Yen, it looks like the Space range will be matching the Conte exactly on price as well, which leads me to wonder what the difference is – apart from the more obvious link with the Toyota brand and some new badges.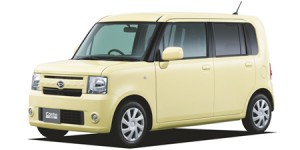 According to media sources, "Pixis" derives from the English word "pixie" to give the brand a cheeky, youthful feel. Apparently Toyota will be adding a van and truck model to its nascent Pixis range in December, with these models being based on Daihatsu's Hijet. Although these kei cars will be sold in Toyota dealerships, the Pixis brand vehicles will have a separate area, presumably to enhance their distinctiveness. Toyota is expecting sales of around 60,000 units per year in 2012 once all three models are in place.
With kei cars making up about 40% of the domestic car market, it seems that Toyota wants to make sure that its dealerships become a one-stop shop for buyers of both standard passenger cars and the smaller kei cars. Although Daihatsu is part of the Toyota fold, Toyota obviously sees an advantage in not risking losing customers on their way to the Daihatsu dealership down the road, as well as the "halo" effect of a closer association with the respected Toyota brand.
Sources: Yomiuri, Nikkei, 47 News, Sankei Biz (Japanese-language)