If you've been following Nissan over the past year or so, you know that motorsports is one area they're trying to target more going forward. Nissan believes that while the percentage of buyers at motorsport events isn't very large, there ARE a high percentage of "shouters" who spread the word about good cars. In other words, if Nissan can appeal to the gear-heads, then those people can convince their non-gear-head friends that Nissan's cars are worth buying for performance reasons.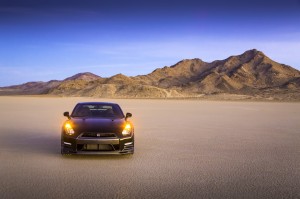 Truth be told, a lot of this focus on motorsports is the result of Nissan's success with NISMO-tuned vehicles. The Juke NISMO has been a hit, as well as the 370Z NISMO. We've even seen a Nissan Leaf NISMO, and oddly enough, it actually excited people! We also know that a GT-R NISMO is coming in 2014, but we're also getting another high-performance GT-R variant – the 2014 Nissan GT-R Track Edition – pricing for which was announced earlier this week.
So, what's Nissan want for their Nurburgring-tuned GT-R Track Edition?
Just $115,710 USD. That sounds a lot, but it's a lot less than the Porsche 911 Turbo S announced today. And remember that the 911 Turbo S is billed as having a Sub-7:30 Nurburgring time, the stock GT-R has clocked 7:18, and this Track Edition is likely to be quite a bit faster.
Is The Nissan GT-R Track Edition Worth It?
Ah, the big question. The base-line Premium is only $99,590, so is the GT-R Track Edition really worth an extra 15K?
Keep in mind, this isn't really a question for the folks who'd cringe at paying more for a Lexus than a Toyota. Only the high-end performance drivers among us get a say in this one. While I probably wouldn't count myself among that number, here's what might justify the price:
First and foremost, the new GT-R Track Edition is much more heavily-oriented towards performance than its Premium and Black Edition brothers. Nissan says the Track Edition is "a pure motorsports competition machine," which means it's for drivers who want to go fast and furious on a track (hence the name).
Accordingly, everything from the brakes to the spoiler to the air ducts has seen tweaking and tuning to maximize the Track Edition's performance. After time at Nurburgring with driver Toshio Suzuki, the car saw several new performance enhancements. The suspension in particular saw the most improvement, and it now features "specialized Bilstein DampTronic gas pressure shock absorbers." The engine has been made to offer improved torque-response at mid to high RPM ranges (4500 to 6000 rpm), but it still offers the same 545 base horsepower with a six-speed dual-clutch transmission.
Design-wise, the Track Edition also has several new improvements which we originally witnessed at the 2013 Chicago Auto Show. Basically, the interior has been restyled to allow for new high-grip front seats. There's also a new dry carbon fiber rear spoiler, which is strong enough to offer a real difference in aerodynamic downforce. The wheels are also fitted with new lighter-weight black RAYS, although those are available on the Black Edition too.
Even after all that, though, the most notable difference is probably the absence of the rear-seat, which has been replaced with a lightweight quilted cloth to decrease weight. Sorry Track Edition drivers, you only get one passenger.
Speaking of Track Edition drivers, there will only ever be 150 of them. Nissan is limiting production in the US to ensure that this new GT-R remains extremely exclusive. Nissan dealerships are taking orders now, so you better get in and buy one if you're interested. You'll be one of the lucky few.
All in all, I'd opt for the Track Edition if I had an extra 15K burning a hole in my pocket, but I wouldn't be able to tell you whether I did it for the prestige or the actual features. But I suppose the "why" doesn't really matter to Nissan – mission accomplished.
I hope that this article has proved interesting even if you're not going to be one of the 150 Track Edition drivers. The car is still fun to learn about and ogle over, and hey, if you ARE one of the lucky drivers, this has probably been extra-helpful. Either way, thanks for reading!
Source: Autoblog