Regular readers will recall an article we published a couple months ago about Nissan's new Mobility Concept. At the time, we didn't really get it. As far as we knew, the NMC was simply a Japan-only re-badging of the already existing Twizy. Don't get me wrong, the Twizy is a great car and I duly noted why Nissan would want one of their own in a market like Japan. But still, I was expecting something more. In the article, I even predicted that we'd be seeing improvements from Nissan before the expected launch in 2015.
Well, earlier this week, we found out exactly what those improvements will be. Basically, Nissan confirmed that their version of Renault's best-selling city car will address many of the car's built-in weaknesses in order to move upmarket and eventually sell internationally. More specifically, Nissan says they want to offer drivers the agility and convenience of a motorcycle coupled with the safety and weather-resistance of a car. How do they do that? With a weather-proofed and re-styled Twizy, of course!
Looking Back to the 2008 Land Glider Concept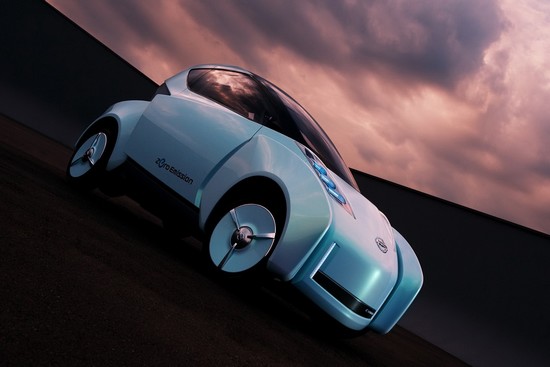 The folks who broke the story at Auto News Europe made an interesting connection between the Renault Twizy and an old, easily forgotten Nissan concept from for years past, the Land Glider Concept. The car was originally shown back in 2009, and shows a clear resemblance to the one-year-old Renault Twizy.
What does this mean? Simply that Nissan has been thinking about a city car for at least four years.
Check out this video and see the Land Glider in action:
When questioned about the similarities between the Land Glider Concept and a possible Nissan Twizy-based vehicle, Etienne Henry, Nissan's head of product strategy and planning, simply replied that, "It was a very interesting concept with very challenging and meaningful technology." Meaningful? I bet it was, Mr. Henry.
Why Nissan May Not Have a Choice
You might think that this this is a clear act of genius on the part of Nissan. They listened to the masses, heard that the Twizy had a few select problems (such as a harsh suspension), and are now producing a perfectly amended vehicle that everyone will love. They're moving upmarket because they can make more money that way, or because they know people will pay for their superior city car car, right?
While that very well may be the case and I'm happy to give credit where credit is due, I suspect that the terms of the Renault-Nissan alliance were the primary motivation. Basically, if Nissan wants a Twizy of their own – and they do – then their agreement prohibits them from selling at the same or lower price than the Twizy. So, they're being smart and making the car better, hopefully enough so that moving upmarket won't hurt sales too much on a car that's primary selling point is affordability.
Obviously, all of this makes Nissan's testing in Japan with the NMC a lot more sensible. You might remember that Japan's Ministry of Transportation is going to prohibit Nissan from selling their version of the Twizy until they feel that the average driver could handle it safely. The NMC is paving the way for something better.
Even more than last time, I can say with confidence that we will see a lot more improvements between the NMC and the eventual release (hopefully in 2015) of Nissan's own three-wheeled city car. Rest assured that you'll get updates as soon as we do. As always, thanks for reading!
Sources: Green Car Reports, Auto News, Car Scoops, Auto Evolution