Already this week we have discussed two vehicles from two separate Japanese manufacturers that will be making a first-time appearance at the Geneva Motor Show next month. To refresh your memory, the two cars we've previewed were the Toyota i-Road and the Suzuki S-Cross. Today, just to round out the week, we have one more Geneva preview for you – the Subaru Viziv crossover concept.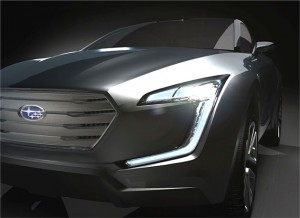 The Geneva Motor Show is going to be a very big event for Subaru. In addition to the Viziv concept, a press release published today by Fuji Heavy Industries outlined the Japanese brand's plans to show a brand-new Subaru Outback featuring a Boxer Diesel engine with a Lineartronic CVT, as well as a new-for-Europe Subaru Forester. But, there's no doubt that Subaru's primary thrust come March 5th and 6th will be their Viziv concept crossover, and that's what we're going to talk about today.
First, let's look at the origin of the name. Apparently, Viziv is "inspired by the phrase 'Vision for Innovation'. It expresses a future vision for innovation, and a concept car suggesting the brand's direction." Pretty self explanatory.
Now let's talk about the rest of the car…
…. (sound of wind whistling) … (a tumbleweed scuttles by) …
That's it. We don't know anything else about the Subaru Viziv.
But! That doesn't mean we can't make predictions… You all know how much I love wild speculation.
So, what we can see from the single image that Subaru has supplied us with is that this concept is intended to break away from vanilla styling tendencies. We can see hints of Ford, Mazda and even Lexus in the Viziv's oversized trapezoidal grille. Meanwhile, the curved LED headlights are reminiscent of Nissan, sort of like an inverted Juke's styling. In general, the exterior design seems focused on bringing out very clear and sleek body lines, and on the whole I think it looks quite good.
As to what the Viziv might actually be a concept for, there are two popular opinions among most auto-news outlets. First, the Viziv is not ever going to see production. It is a literal concept car that will only be used to indicate the direction Subaru wants their brand to go. Second, the Viziv is a preview for the Tribeca crossover – a vehicle that is due for a generational makeover.
Of course, we'll have to wait until Geneva to know for sure what the Viziv concept crossover is bringing to the table. Even though it does feel a lot like a mixing pot of several currently-popular design elements, the Viziv definitely looks uncharacteristically sleek and sexy. Subaru's been putting up excellent numbers lately and if the Viziv is truly an indication of where they want to go, then I only see that trend continuing.