Toyota already dominates EV and hybrid vehicle sales, claiming 65.9% of the market currently. However, they must be wondering whether they are betting too heavily on the hybrid side of that equation, and whether Nissan with its radical commitment to pure EVs will end up leap-frogging them.
Toyota may be less sanguine about the near-term prospects of pure EVs, but that does not mean that they are going to put all their eggs into one basket. Not only are they getting into bed with electric sports car maker Tesla, but they are also cuing up two limited EV models for 2012 – the RAV4 and iQ EVs.
New details emerging about the iQ EV city car indicate a limited production run of 600 vehicles in 2012, with 400 destined to remain in Japan, with 100 each earmarked for the US and Europe.
These cars will only be available for leases of 2 to 3 years initially, with direct consumer sales possibly coming after that. The balance seems to be rather skewed in favor of the home market, which I suspect will mainly have to do with engineers being more readily able to access vehicles for feedback. Another reason could be that the standard ICE US Scion iQ is of limited appeal (just 3,649 in August 2011), so it is likely that the EV version of the RAV4 will be a better model to judge the appetite for EVs in the US.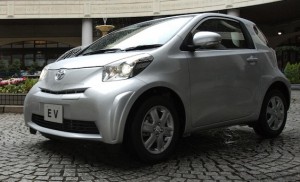 The iQ EV will be produced at Toyota's Takaoka Plant in Toyota City starting from August 2012. Although the first year of production will see only 600 cars made, Toyota is ready to increase production from the following year in response to customer demand.
Range will surely have a big influence on demand: While 100km seems like a substantially large round number in Japan, when converted to miles and stacked up against the Nissan Leaf's 160KM (which is a similarly round 100, but miles rather than kilometers), the range is likely to seem rather puny to non-Japanese customers who are already lining up to see their therapists with bouts of range anxiety. On the other hand, it will be interesting to see how much the lower price that fewer battery packs enables will help assuage that concern.
Source: Nikkan (Japanese)
leave a response
,
trackback from your own site