Japan's own Car of the Year (COTY) top ten contenders have been recently announced. The overall winner of the 32nd annual prize will be announced at the Tokyo Motor Show at Tokyo's Big Sight on December 3rd, 2012.
Here, in no particular order,  is the shortlist for this year's award:
Prius Alpha (Toyota)
Leaf (Nissan)
Fit Shuttle (Honda)
Demio Skyactiv (Mazda)
Mira e:S (Daihatsu)
Passat – sedan and variants (VW)
C Class – sedan and stationwagon (Mercedes)
1 Series (BMW)
508 (Peugeot)
S60 / V60 (Volvo)
Now, if I were a betting man – which I am not really, but let's imagine I was for a moment – which of these would I put my money on to win?
First of all, it is disappointing to see that a number of models on this list are derivative rather than genuine breakthrough products. Yes, I am looking at you, Prius Alpha and Fit Shuttle. However, good (and successful) these cars may be in filling their particular niches, their derivative nature makes them unworthy of the overall crown. Good? Yes – but not Great.
So what is the stand-out quality that impresses this year?
Well, whereas 2010 was the year of the electric car, with the Leaf and i-MiEV capturing the attention, this year the focus seems to have shifted to squeezing more out of a traditional ICE arrangement – and in doing so keeping additional costs to a minimum. Now, if that is the zeitgeist then there are two cars on this list that clearly reflect this. And one of them that has really made an outstanding impression in this regard.
So which cars are on my shortlist of two?
The Demio Skyactiv and the Mira e:S.
Coming first to the Demio, the thing about it is that it is not so much the car, but the engine technology that grabs the headlines. After all, Mazda is starting to apply Skyactiv principles and technology across its model range – even as far as bringing it to diesel models in the future too.
If there's a "Car Technology of the Year" award, then Skyactiv should definitely be right up there in contention. But the Demio as Car of The Year? I am not so sure.
The Mira e:S, on the other hand, has been nothing but a sensation: The first kei car to break the headline 30 km / l figure, putting it almost on par with super-frugal (and complex) hybrids such as the Prius Alpha. On the other hand, Daihatsu has achieved all of this in a package that costs just a smidgen more than a third of the price of a base model Prius – the e:S range starts at a mere 800,000 Yen.
You can tell Daihatsu is onto something here: Japan's new car buyers love it. The e:S is selling like hot cakes and was the impetus behind an incredible 30% leap in Daihatsu's October sales.
So there you have it: For my money, there is one clear winner- and that is the Daihatsu Mira e:S.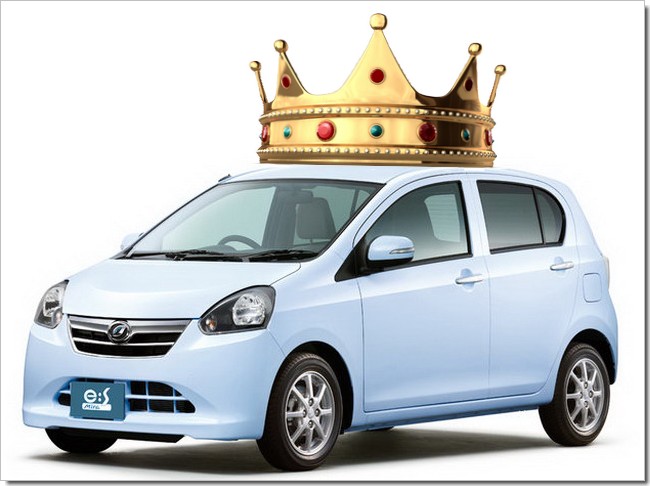 (But tune in early in December to find out what the so-called experts think when they announce the real winner!)
Source: Car of The Year Japan (Japanese)
leave a response
,
trackback from your own site