Nissan is looking to aggressively expand its EV (electric vehicle) line-up beyond the eponymous Leaf. Having received permission from Japan's Ministry of Land, Infrastructure, Transport and Tourism, Nissan announced on September 29th that it would be starting trials of its New Mobility Concept EV on public roads starting in the area around Nissan's HQ in Yokohama. The trial will also be extended to Aomori Prefecture (in the North) and Fukuoka Prefecture (in the South).
The Yokohama trial will be divided into two phases. The first will be from October 15th to 28th and be centered around people connected with Yokohama's Motomachi shopping district. The second phase will be open to local residents and tourists and will be run from November 17th to 30th. Participants must be 21 and above and have had a regular passenger car license for 3 years or more. Details of the Yokohama program will be posted on the city website here from October.
Nissan's 2-seater is ostensibly based on it's sister company Renault's Twizy. It is 2.34 meters in length and 1.19 meters wide. With a height of 1.45 meters, it will be big enough to carry two adults. It will have a top speed of 80 km/h and be able to travel 100 km between recharges.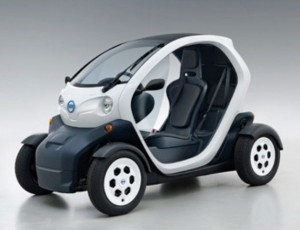 The original concept showed a two-seater (but surely one of the passengers would have to be very flexible, very short or both to fit in) with no doors, so it will be interesting to see how this design has evolved when it actually hits the streets. I'm not sure I would be too happy driving this in Aomori's snow in its original door-less form.
Nissan will be providing 7 vehicles at no cost to the city of Yokohama and is hoping to get usage data from a range of drivers, including older people and tourists, as well as researching the social needs for very small vehicles like these.
Sources: Nikkei, Car Watch, Nissan (all Japanese)
leave a response
,
trackback from your own site